'The BFG' Trailer: Steven Spielberg Brings A Classic To Life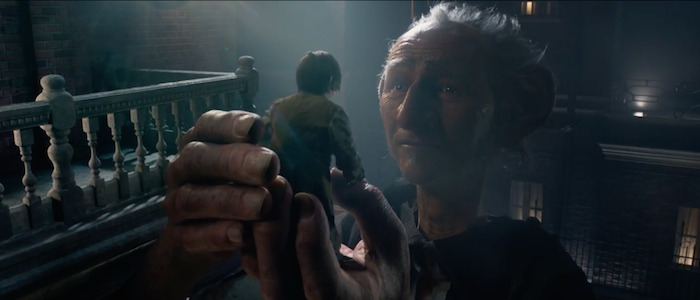 Every Steven Spielberg movie is an event, because why would you not celebrate every time one of the great living artists creates a new work? Sure, he's always operated within a populist realm, finding ways to please the masses, but there has never been another filmmaker who has done so with such craft and ability. Spielberg is one of the great filmmakers, a man whose legacy keeps on evolving with each film. You can count his genuine failures on one hand.
So yes, I'm excited to see what Spielberg does with The BFG. Spielberg's sense of wonder should make a fine complement for author Roald Dahl's wit – this is a peanut butter-and-jelly-type situation if there ever was one. The new trailer for The BFG only dips its toe into what looks like a much larger world, but what's on display here certainly looks intriguing.
The premise here is simple enough: a "big friendly giant" takes a young girl to Giant Country, where they have all kinds of a fantastical adventures. But the BFG's giant brethren aren't so friendly and, well, things get a little hairy for everyone.
There are some truly indelible images in this trailer. The way the BFG masks himself in the shadows of a London street when a pedestrian walks by. The trees bending with the force of hurricane winds as he sprints down the road. The BFG cradling young Sophie in his hand, revealing a motion capture character bearing the soulful face of Academy Award-winning actor Mark Rylance, reuniting with Spielberg after a fruitful experience on Bridge of Spies. So much of this movie looks enchanting and genuinely magical.
But great swaths of it also feels incredibly unfinished, looking like outtakes from Peter Jackson's Hobbit trilogy. That's the problem with movies that are as effects-heavy as this – you have to start selling the film before you can finish it. The BFG probably won't look as good as anyone wants it to until it's being projected in theaters.
Here is the official synopsis for the film, which has to do a whole bunch of heavy lifting:
The BFG (Mark Rylance), while a giant himself, is a Big Friendly Giant and nothing like the other inhabitants of Giant Country. Standing 24-feet tall with enormous ears and a keen sense of smell, he is endearingly dim-witted and keeps to himself for the most part. Giants like Bloodbottler (Bill Hader) and Fleshlumpeater (Jemaine Clement) on the other hand, are twice as big and at least twice as scary and have been known to eat humans, while the BFG prefers Snozzcumber and Frobscottle. Upon her arrival in Giant Country, Sophie, a precocious 10-year-old girl from London, is initially frightened of the mysterious giant who has brought her to his cave, but soon comes to realize that the BFG is actually quite gentle and charming, and, having never met a giant before, has many questions. The BFG brings Sophie to Dream Country where he collects dreams and sends them to children, teaching her all about the magic and mystery of dreams. Having both been on their own in the world up until now, their affection for one another quickly grows, but Sophie's presence in Giant Country has attracted the unwanted attention of the other giants, who have become increasingly more bothersome. Sophie and the BFG soon depart for London to see the Queen (Penelope Wilton) and warn her of the precarious giant situation, but they must first convince the Queen and her maid, Mary (Rebecca Hall), that giants do indeed exist. Together, they come up with a plan to get rid of the giants once and for all.
The BFG stomps into theaters on July 1, 2016. This trailer follows
and
.