POTD: See Lena Dunham In A 'Neighbors 2' Deleted Scene As Joan Of Arc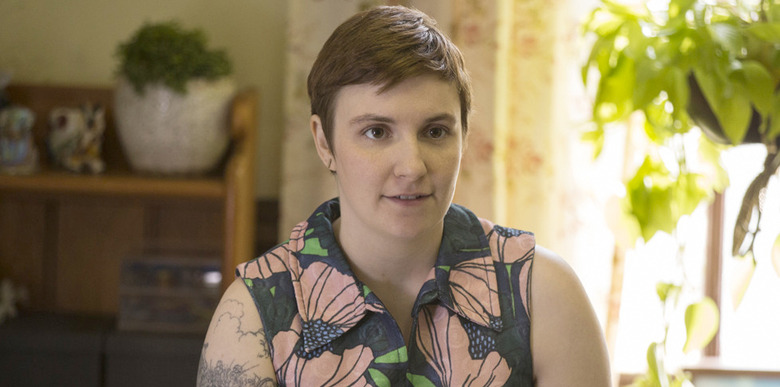 Perhaps one of the most divisive talents working today is Lena Dunham. As the creator and star of Girls, she's been responsible for creating some of the most oblivious, frivolous, petty characters on television. But there's something that's still very appealing about the show, and it has captured the attention of the masses, and seems to be the voice of a generation. And that's likely why she was recruited for a little cameo in Neighbors 2: Sorority Rising.
The bad news is that Lena Dunham ended up on the cutting room floor of the sequel starring Seth Rogen, Rose Byrne and Zac Efron, and we won't be seeing her when the comedy arrives this summer. Thankfully, she shared a photo from behind the scenes that shows the scene she would have been part of, and it features her dressed as Joan of Arc, tied to a funeral pyre. See the Lena Dunham Neighbors 2 cameo photo after the jump.
Here's what Lena Dunham posted to Instagram yesterday:
Throwback to when I played the role of Joan of Arc in Neighbors 2. I ended up on the cutting room floor so you won't see my scene in the film, but it was all worth it for these blade hands and the chance to rewrite history as a Joan who jumps off the flaming pyre and guts a lot of men. I can't wait for this movie ?
Where exactly in a movie like Neighbors 2 would a scene like this have fit in? Well, you might remember a sequence in the first Neighbors where Zac Efron and his fraternity brothers take a trip through their Greek history, where their predecessors were responsible for creating things like beer pong. Here's the scene if you don't remember it:
This montage featured cameo appearances by The Lonely Island (Andy Samberg, Akiva Shaffer and Jorma Taccone) the Workaholics trio (Adam DeVine, Blake Anderson and Anders Holm) and Jake Johnson. So it stands to reason that there might be some kind of sorority equivalent in the sequel with a bunch more cameos. However, if Lena Dunham ended up on the cutting room floor, then maybe the whole sequence did as well. We'll just have to wait and see. Either way, maybe we'll see this scene on the eventual Blu-ray and DVD release.
Neighbors 2: Sorority Rising arrives on May 20.