POTD: Benedict Cumberbatch Visits Comic Book Store In Full 'Doctor Strange' Wardrobe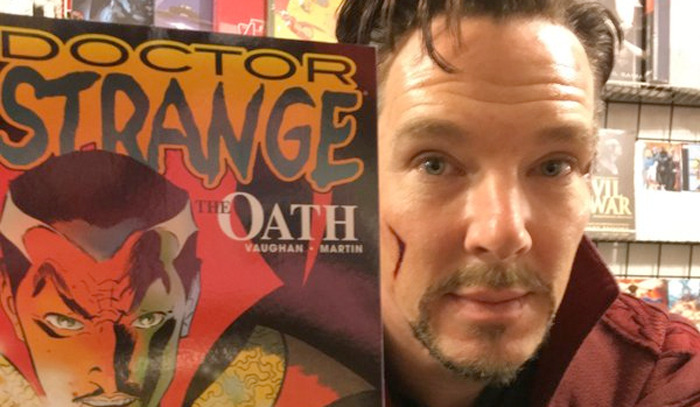 Over the weekend, production wrapped on Marvel's forthcoming mystic comic book flick Doctor Strange. There have been some set photos making the rounds, but since copyrights can be tricky for those kind of images we won't post them here.
But what we can post are some images that a comic book store manager posted when Benedict Cumberbatch decided to pay a visit while still in his full Doctor Strange wardrobe. Plus, Marvel posted a picture of Cumberbatch in the shop with comic book in hand. See the Doctor Strange photos below!
Here's a couple photos from the JHU Comic Books Facebook page:
That's the comic book shop's owner with Doctor Strange, making this one of the best days of his life for sure. As you can see, in one of those photos, Benedict Cumberbatch is buying a comic book, and a photo posted to Marvel's Twitter feed appears to reveal which one he picked up:
One never knows when the Master of the Mystic Arts will stop by! Thanks, @jhuniverse! #DoctorStrange pic.twitter.com/z89MMlf276

— Marvel Entertainment (@Marvel) April 3, 2016
Filming took place out in front of the store on the New York City streets yesterday afternoon involving Benedict Cumberbatch, Chiwetel Ejiofor and Mads Mikkelsen, offering a first look at the later actor as a mysterious villain. Again, we can't post the set photos that have been surfacing online from the production, but if you must seem them, you can check them out here and here. There are some great shots of the Sorcerer Supreme to get you excited
Otherwise, here's what director Scott Derrickson posted to Twitter yesterday to announce the wrap of production:
Doctor Strange hits theaters on November 4, 2016. That's this year!