'Batman: The Killing Joke' Featurette Has First Footage From The Animated Movie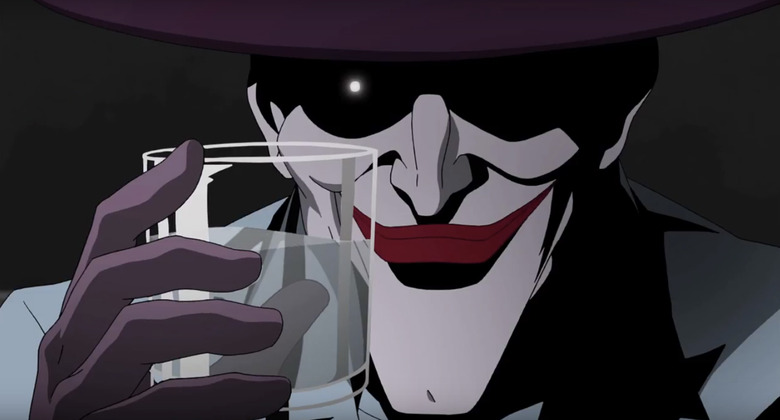 At Comic-Con last summer, we learned that the iconic Batman comic book storyline The Killing Joke was being turned into an animated movie. Just recently it was officially confirmed that Batman: The Animated Series stars Kevin Conroy and Mark Hamill would be reprising their roles as Batman and The Joker respectively for the project, complete with executive producer Bruce Timm on board. Now we finally get to see the pages of this controversial storyline in motion as a new featurette has surfaced that dives into the legacy of  Alan Moore and Brian Bolland's 1988 graphic novel and also gives us a first look at the movie itself.
Watch the Batman The Killing Joke featurette after the jump.
Here's the featurette from YouTube:
Batman: The Killing Joke is well known for giving The Joker an origin story that has largely been accepted as canon. In short, a struggling comedian just has one gruesome, terrible day, and it makes him lose his mind.  But the comic is also well-known for a controversial move by the villain that saw him shooting Barbara Gordon, aka Batgirl, in front of her father Commissioner Jim Gordon. This left her paralyzed, effectively ending her role as one of Gotham's protectors. The Joker poured salt in the wound by having her captured and stripped, with the implication that she was also sexually assaulted.
This Batman storyline is not for kids at all, so don't think you'll be able to watch it with your young ones who love superhero movies and cartoons. Just a quick glimpse at this featurette, which explains plenty about The Killing Joke's history and story, will confirm that fact.
The graphic novel has come under fire in recent years for completely disarming an iconic female superhero at the time, especially in such a brutal way, but it's still revered as one of the best in Batman's history. That's exactly why it's being turned into an animated movie, and Hamill and Conroy expressed as much when they announced their return to the animated world of Batman.
The rest of the animated movie's cast includes Ray Wise as Commissioner Gordon (who can be heard in the footage teased in the featurette) and Tara Strong as Batgirl, a role she's played before in The New Batman Adventures and several other projects. On the other end of the spectrum, she previously voiced Harley Quinn in the Batman: Arkham video games.
Batman: The Killing Joke is supposed to premiere at Comic-Con this summer, but no other release date is available yet.