New 'All The Way' Trailer: Bryan Cranston Isn't Messing Around As Lyndon B. Johnson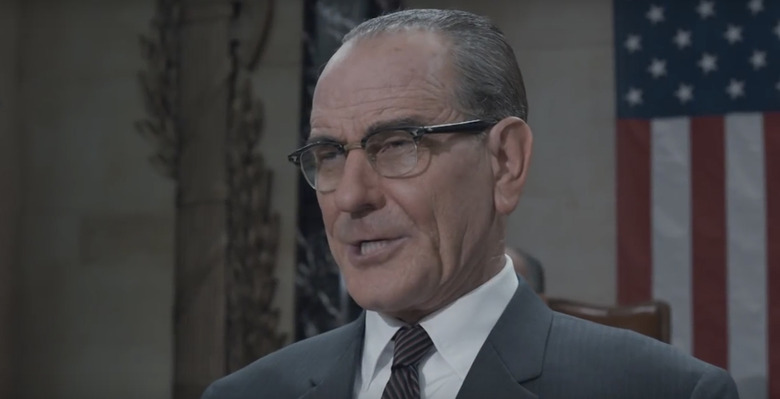 Following the first teaser trailer last weekend, a new look at the HBO Films adaptation of the stage production All The Way has arrived. Bryan Cranston stars as Lyndon B. Johnson, the vice president who became commander in chief when John F. Kennedy was assassinated in 1963. The film shows the struggles Johnson has as he finds himself stuck between a rock and a hard place in the tricky game of politics and morals. It's the kind of movie a history teacher will show when they need to catch up on grading papers, but the good news is that it looks outstanding.
Watch the new All The Way trailer after the jump.
This time we get a first look at Melissa Leo as Lady Bird Johnson and Bradley Whitford as Hubert Humphrey. But it looks like Frank Langella as Senator Richard Russell will be giving Johnson some trouble as Johnson begins to stake his presidency on the Civil Rights Act, following plenty of pressure from Martin Luther King Jr. (Anthony Mackie), displeasing the southern Democrats who put him in the position to become the accidental president.
However, it's clear this movie is all about Bryan Cranston, who disappears into the role of Lyndon B. Johnson. Beyond the make-up, he sounds exactly like the man, and he brings quite an intensity to the role in this trailer alone. But hopefully the film as a whole works as a historical drama and isn't just a showcase of his performance.
The rest of the cast includes Stephen Root (J. Edgar Hoover), Marque Richardson (Bob Moses), Aisha Hinds (Fanny Lou Hamer), Todd Weeks (Walter Jenkins), Mo McRae (Stokely Carmichael) and Spencer Garrett (Walter Reuther). The film is directed by Jay Roach, fresh off working with Bryan Cranston in Trumbo.
'All The Way' offers a riveting behind-the scenes look at President Lyndon B. Johnson's (Bryan Cranston) tumultuous first year in office after the assassination of John F. Kennedy. Staking his presidency on what would be an historic unprecedented Civil Rights Act, Johnson finds himself caught between the moral imperative of Dr. Martin Luther King, Jr. (Anthony Mackie) and the expectations of the southern Democratic Party leaders who brought Johnson to power. As King battles to press Johnson while controlling more radical elements of the Civil Rights Movement, Johnson navigates the bill through Congress, winning a landslide victory against Barry Goldwater, but causing the South to defect from the Democratic Party.
All The Way premieres on HBO on May 21 at 8pm ET/PT.