LOL: 'Game Of Thrones' Featurette From 'SNL' Shows The Magic Behind The Dragons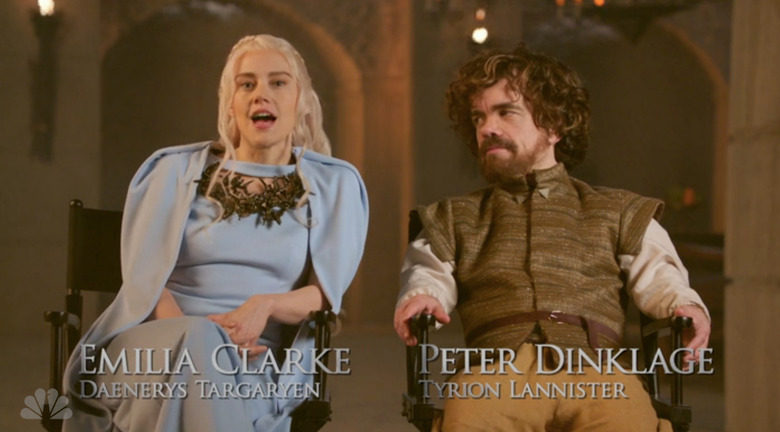 Last night, Game of Thrones star Peter Dinklage made his hosting debut on Saturday Night Live, and you just knew that the late night sketch show was going to do something parodying the popular HBO fantasy series. Thankfully, they did not disappoint with a faux featurette from behind the scenes of show that illustrates how they're bring Daenerys Targaryen's impressive dragons to life for the forthcoming sixth season. Sure, there's visual effects involved, but there's also an impressive motion capture performance that helps.
Watch the Saturday Night Live Game of Thrones featurette after the jump.
Here's the Game of Thrones sketch from last night's SNL from Hulu:
Kudos to the producers of this sketch for making it look just like a real featurette that you would see between movies on HBO. Sure, the presence of Peter Dinklage makes it feel that much more authentic, but future Ghostbusters star Kate McKinnon as Emilia Clarke deserves plenty of credit as well.
The sketch really brings the laughs though thanks to Bobby Moynihan as motion capture performer Randy Carnival, who is the man behind Drogon the Dragon. It's the piercing screech that Moynihan makes as the dragon that makes this immediately hilarious. Then it just gets funnier as Moynihan creeps out PeterDinklage with one of his intense stares and interrupts a scene by working the title of the show into a line of dialogue from another cast member.
Sadly, the sketch doesn't reveal any secrets from the sixth season of Game of Thrones. But if you're looking for something to old you over, make sure you check out the most recent trailer for the series, which teases plenty more death in store for the characters of Westeros. There's also a big gallery of new images from the sixth season right here, and a real featurette that takes us behind the scenes without spoiling anything.
Don't forget that this season of Game of Thrones will venture into territory that is uncharted by the books, as author George R.R. Martin is still struggling to finish the next book in the series. The good news is that the showrunners say that this season won't spoil the books too much. You'll just have to tune in later this month to see what that means.
Game of Thrones returns to HBO on April 24.