'Guardians Of The Galaxy' Deleted Scene Would Have Given Groot His Last Supper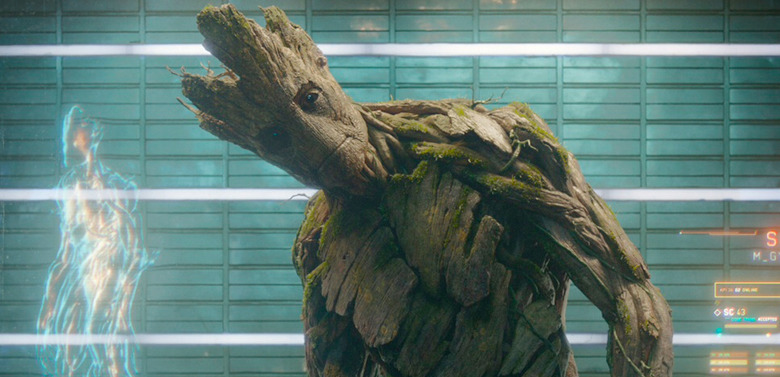 As we all know, the end of Guardians of the Galaxy is a little bittersweet. Rocket Raccoon's big, walking tree companion known as Groot (Vin Diesel) sacrifices himself to save his furry little friend and their new pals Star-Lord (Chris Pratt), Gamora (Zoe Saldana) and Drax the Destroyer (Dave Bautista). Thankfully, since this is a comic book movie, he's not really dead, and we see him on his way back to his big tree self as a little potted plant (who loves to dance).
Audiences were a little surprised by his sacrifice, however, James Gunn recently called attention to a Guardians of the Galaxy deleted scene that didn't make it to the Blu-Ray or DVD release, because it would have required finished visual effects. But as a gift, the director received a finished frame from the scene that would have given Groot a symbolic last supper, complete with the visual to go with it. See the shot from the deleted scene below.
Here's an image of the Guardians of the Galaxy deleted scene from James Gunn's Facebook page: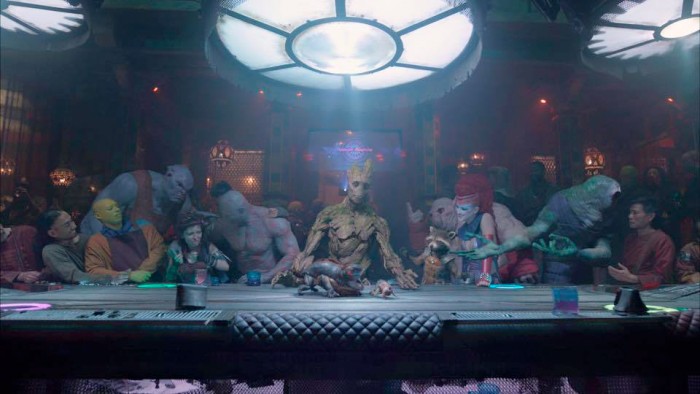 As you can see, the shot is reminiscent of the iconic painting by Leonardo da Vinci known as "The Last Supper", which featured Jesus and his 12 disciples at dinner. Considering the fact that Groot sacrifices himself to save his friends not unlike Jesus sacrificed himself in the Bible, this would have been a powerful symbol and foreshadowing of Groot's impending death. It also seems appropriate that Groot's death was only temporary, just like the life of Jesus as depicted in the Bible.
This isn't just a mere coincidence either. In the comments on this Facebook post, a fan jokingly pointed out that Groot could be his own cross. James Gunn responded by explaining that as an easter egg (not sure if the pun is intended or not after last weekend) you can actually see that Groot positions himself in a very specific way. When he creates a cocoon of wood around the rest of the crew, he spreads his arms far apart to wrap himself around them, creating the same position that Jesus found himself in on the cross when he sacrificed himself. For those keeping score, Gunn also explained that this isn't the easter egg that remains hidden in the movie.
The deleted scene just goes to show you how much thought goes into even the quickest of visuals, and that every frame is important in the grand scheme of the film. More than just a visual gag, this deleted scene would have hinted at the fate that awaited Groot. Thankfully, Groot is coming back for Guardians of the Galaxy Vol. 2, and it appears he's still just a little guy in the first look at the sequel that's in production now.