'It's Always Sunny In Philadelphia' Renewed For Two More Seasons, Matching A Historical TV Record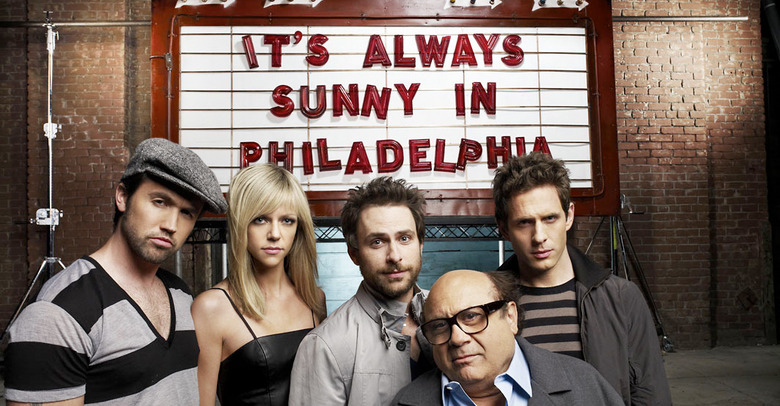 The 11th season of It's Always Sunny in Philadelphia just came to a close in March with a two-part finale that saw the gang stranded on a Christian cruise liner. A 12th season of the comedy series that began on FX and moved to the recently created sister channel FXX has already been ordered, but that hasn't stopped the network from ordering a 13th and 14th season.
Not only is that good news for fans of the Paddy's Pub crew that consists of Rob McElhenney, Charlie Day, Kaitlin Olson, Glenn Howerton and Danny DeVito, but the It's Always Sunny in Philadelphia renewal also puts the show in TV history record books. Find out how below.
Deadline has news of FXX renewing It's Always Sunny in Philadelphia getting renewed for two more seasons with an inspiring statement from Nick Grad, co-President of Original Programming for FX Networks and FX Productions:
"If anyone doubts the power of a camcorder and a dream, just look at It's Always Sunny in Philadelphia, which was a DIY backyard pilot when Rob, Charlie and Glenn brought it to FX and will go down in TV history as one of the most loved and enduring comedies. Few shows make it this far or have such devoted fans, and we owe it all to the creative vision and great humor of the creators and cast who keep Sunny fresh and inventive every season."
As we know now, the show has gone on to stick around for 11 years with three more already locked down. That's pretty impressive for a show that came from a group of relatively unknown talent. And as we said before, now executive producers and creators Rob McElhenney, Charlie Day and Glenn Howerton are part of television history. This recent order makes It's Always Sunny in Philadelphia the longest-running live-action comedy series in TV history, tied with The Adventures of Ozzie & Harriet. The classic comedy series debuted in 1952 and lasted 14 seasons. If the laughs keep on coming, there's a good chance It's Always Sunny could surpass that record. But for now we have the show sticking around until 2020.
This is just one more record that Fox, who owns FX and FXX, has under their belt. The Simpsons is the longest running American animated comedy series of all-time, and FXX has been airing their episodes in syndication like crazy. However, we're not sure how much longer that show will last after some contract negotiations shook things up behind the scenes last year.
At the very least, we're just glad we can spend some more time with the most despicable people in Philadelphia.