The Official 'John Wick: Chapter Two' Synopsis Contains Approximately Zero Dead Dogs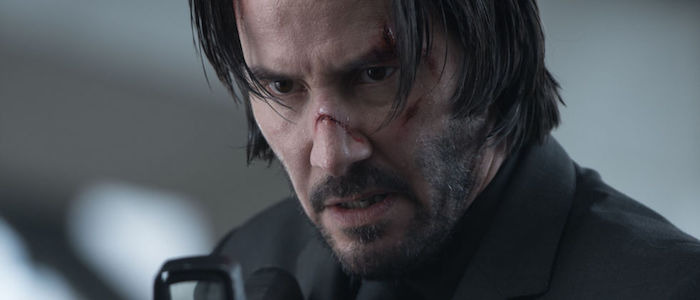 My love for John Wick is unapologetic and pure. It knows no boundaries. Keanu Reeves' 2014 revenge film is a perfectly crafted breath of fresh air, an action film that actually cares about its action, a thriller that takes its time to let you love its characters, and a totally gonzo portrait of a fascinating and fantastical criminal underworld that puts most cinematic world-building to shame. So yes, I'm pumped that professional assassin/criminal boogeyman John Wick is being plucked out of semi-retirement for another bloody adventure where every bullet finds a head and every bone gets a clean breaking. And Reeves certainly seems ready, too.
Thanks to a newly released official synopsis, we now have an idea of what Mr. Wick will be up to in John Wick: Chapter Two. Spoiler alert: he won't be avenging a murdered puppy this time around.
Without further ado, here's that synopsis (via Collider);
Keanu Reeves returns in the sequel to the 2014 hit as legendary hitman John Wick who is forced to back out of retirement by a former associate plotting to seize control of a shadowy international assassins' guild. Bound by a blood oath to help him, John travels to Rome where he squares off against some of the world's deadliest killers. Lionsgate's John Wick: Chapter 2 arriving in theaters on February 10, 2017.
We knew that the sequel would move the action to Rome, but the rest of this is new information. The most important detail here is that the sequel sounds like it will double down on the dense and strange criminal universe of the first film, which had its own currency, it's own societal structure, and a strict set of rules and regulations (with violators being punished with a swift execution, of course). The fact that John Wick is pulled back into this world by a "blood oath" is the exact kind of insanity that made the first film such a giddy pleasure.
But who is this "former associate" that yanks our hero to Rome? It could be a new character, perhaps one played by Laurence Fishburne, Ruby Rose, Common, Peter Stormare, or Riccardo Scamarcio, who joined the cast for this entry. But it could also be John Leguizamo, Lance Reddick, or Ian McShane, who are returning as their characters from the first film. After all, John really does owe McShane's Winston a favor or two at this point...
John Wick: Chapter Two opens on February 10, 2017 and is directed by Chad Stahelski, who helmed the first movie with David Leitch. There is no 2017 release that I am more excited to see at this point.