Shawn Levy Set To Remake John Carpenter's 'Starman'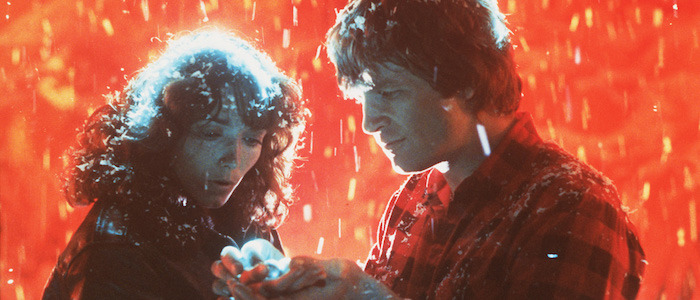 John Carpenter directed Starman while he was in the middle of one of the greatest runs in the history of Hollywood. Over the course of one decade, the director of Halloween spread his wings and made bonafide masterpieces like Escape From New York, The Thing, They Live, and Big Trouble in Little China. He made effective chillers like Christine, The Fog, and Prince of Darkness. And he also made a stirring, heartfelt, and achingly romantic science fiction adventure starring Jeff Bridges and Karen Allen. Starman isn't the first film you talk about when you discuss Carpenter's work, but it is one of his finest films.
It's not surprising that Starman is officially getting a remake (every single movie will eventually get remade), but it's disappointing that the director of three(!) Night at the Museum movies has landed the job.
The news comes our way via The Hollywood Reporter, who report that Shawn Levy will helm the new Starman for Columbia Pictures. Arash Amel, who penned the infamously troubled Grace of Monaco, will write the screenplay. Michael Douglas will produce, having done the same for the original film.
The 1984 Starman plays like an adult-oriented of E.T.: The Extra-Terrestrial, following a young widow (Allen) who encounters an alien being that has taken on the form of her dead husband (Bridges). He asks her to drive him across the country to the rendezvous point where he can be picked up by his allies and return home. She agrees, the government gives chase, and a strange and beautiful romance grows between the two of them. Allen is stunning as the human foil to Bridges, whose performance is nothing short of incredible. Bridges allows us to watch this truly alien alien learn what it means to be human and it's fascinating, layered work that earned him a well-deserved Oscar nomination.
Levy isn't a bad filmmaker. It takes a lot of skill to make successful family entertainment and the man is certainly good at staging slapstick and fart jokes and sequences of whimsy. But when he's stepped beyond his Night at the Museum/Cheaper by the Dozen/The Pink Panther comfort zone and strayed into other genres, he's faltered. Real Steel is an admirable, but ultimately disappointing misfire. This is Where I Leave You is the most well-cast shrug of 2014. The Internship is an unforgivable dumpster fire that consumes all laughter like a black hole.
Does Levy have a good Starman inside him? Maybe. The existence of Real Steel proves that he has bigger ambitions and a lot of imagination, even if the movie doesn't quite work. From the outside looking in, the thought of him remaking a masterful film from one of the great genre filmmakers of all time feels like a bad decision. I want nothing more than for him to make me eat these words.
And in any case, it's not like the magnificent original film is going anywhere. You really should see it if you haven't.