Producers Confirm That 'Sicario 2' Is In The Works, Emily Blunt, Benicio Del Toro, And Josh Brolin May Return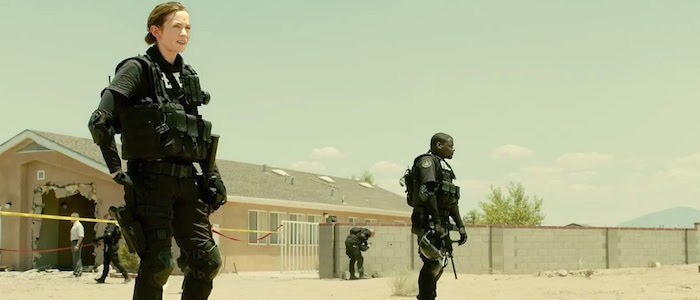 Sicario was one of 2015's best quiet successes. Director Denis Villeneuve's drug war thriller never made a huge splash, but it made dozens of tiny splashes, impressing audiences and critics alike while flying under the radar. The film received enthusiastic reviews, nabbed three Oscar nominations, and grossed $80 million worldwide against a budget of only $30 million. /Film's staff declared it the eleventh best film of 2015. Not bad. Not bad at all.
Now, producers Molly Smith, Trent Luckinbill, and Thad Luckinbill have confirmed that a sequel is in development and that they expect original stars Emily Blunt, Benicio del Toro, and Josh Brolin to reprise their roles.
This news is part of a larger interview with the Smith and the Luckinbills over at The Hollywood Reporter, where the founders of Black Label Media discuss their "indie film strategy" and the other projects they have on their plate. When the topic of Sicario 2 was brought up, Smith confirmed that screenwriter Taylor Sheridan, who penned the first film, has turned in a draft of the screenplay. Luckinbill elaborated on the status of the sequel:
Taylor's a really great world-builder. He's got that kind of modern Western voice, which is in vogue right now. And he did it again [with the sequel]. It's a great big world. We can't reveal the plot, but you'll see [Emily Blunt, Benicio Del Toro and Josh Brolin] all come back. You have such a great character with Benicio, who was as dark as he was and still so loved. That character resonates so well with audiences. People want to know what happened to him, so it's a perfect foray for us to explore. Obviously we would love it if Denis could [direct]. He's a busy man, but he's certainly part of the process with us right now.
Of course, the reason why Villeneuve may not be able to return is because he's getting ready to shoot the long-awaited sequel to Blade Runner. Which is a pretty good excuse, I guess. However, having the original writer on board and managing to get Blunt, Del Toro, and Brolin back would be a strong start to making a sequel sing. Villeneuve would be missed, but giving another director a shot at this material could make for an interesting study in contrasts. They should also try to retain the services of legendary cinematographer Roger Deakins...although he'll also be working on Blade Runner 2 with Villeneuve.
Anyway, if Sicario 2 does happen (and that's not even a sure thing), it'll take a couple of years to pull everything together. Who knows? Maybe a few schedules will clear up by then.