'The Jungle Book' IMAX Trailer Brings The Spectacle, Bill Murray And Neel Sethi Singing "The Bare Necessities" Brings The Charm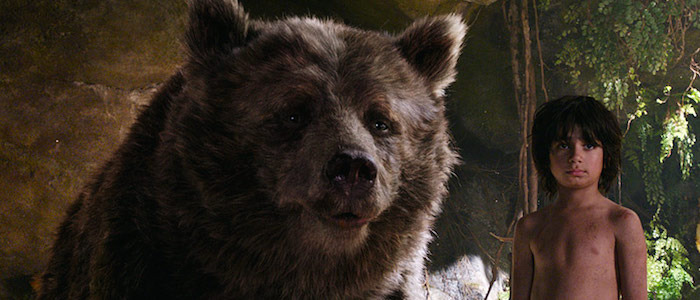 The most effective pieces of marketing for Jon Favreau's The Jungle Book have been the trailers and clips that focus on character instead of action. It's one thing to create an entirely digital jungle full of photo-realistic animated animals, but it's another thing altogether to make us care about those creatures and their sprawling home.
But if spectacle is what you want, the new IMAX trailer for the film has got it in spades. Running! Jumping! Smashing! Yelling! Fire! Etc.! The movie looks impressively huge. For those who want a something a little more low-key and charming, there's also Bill Murray and Neel Sethi singing "The Bare Necessities" on Jimmy Kimmel Live.
The first half of the IMAX trailer is an extended look at a single scene from the film, where Sethi's "man cub" Mowgli encounters Kaa the python (voiced by Scarlett Johansson) and learns the truth about his past via a hypnotic flashback. Interestingly, this trailer reveals that the villainous tiger Shere Khan killed Mowgli's father, an element that isn't present in Rudyard Kipling's originals stories or Disney's 1967 animated film. It is, however, present in the widely forgotten 1994 live-action version of this story. In other words, 2016's The Jungle Book is starting to feel like a mix tape of ideas and concepts from all versions of this tale, rather than a straightforward adaptation or remake.
Meanwhile, Bill Murray (who voices the laid-back bear Baloo) and Neel Sethi stopped by Jimmy Kimmel Live to promote the film and ended up performing "The Bare Necessities," the iconic song from the 1967 animated film. Sethi, happy to be there, and Murray, grumpy but still Bill freakin' Murray, make for a surprisingly wonderful duo.
Here's the official synopsis for the film:
Directed by Jon Favreau ("Iron Man"), based on Rudyard Kipling's timeless stories and inspired by Disney's classic animated film, "The Jungle Book" is an all-new live-action epic adventure about Mowgli (newcomer Neel Sethi), a man-cub who's been raised by a family of wolves. But Mowgli finds he is no longer welcome in the jungle when fearsome tiger Shere Khan (voice of Idris Elba), who bears the scars of Man, promises to eliminate what he sees as a threat. Urged to abandon the only home he's ever known, Mowgli embarks on a captivating journey of selfdiscovery, guided by panther-turned-stern mentor Bagheera (voice of Ben Kingsley), and the free-spirited bear Baloo (voice of Bill Murray). Along the way, Mowgli encounters jungle creatures who don't exactly have his best interests at heart, including Kaa (voice of Scarlett Johansson), a python whose seductive voice and gaze hypnotizes the man-cub, and the smooth-talking King Louie (voice of Christopher Walken), who tries to coerce Mowgli into giving up the secret to the elusive and deadly red flower: fire.
The Jungle Book opens on April 15, 2016.