Alamo Drafthouse PSA: 'Hardcore Henry' Will Beat The Hell Out Of You For Talking & Texting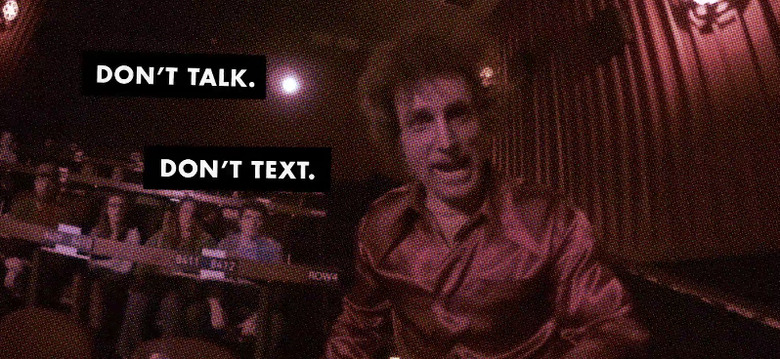 In one week, you'll be able to experience an action movie in from the point of view of the hero as Hardcore Henry turns the big screen into your own cinematic video game. But before then, the cinephiles at the Alamo Drafthouse want to make sure you're still being courteous by avoiding talking and texting in the movie theater. However, if you happen to forget the rules, Henry and his friend Jimmy (Sharlto Copley) aren't going to let you get away with it. In fact, they'll beat the hell out of you.
Watch the Hardcore Henry Alamo Drafthouse PSA after the jump.
Clearly the Alamo Drafthouse is pretty serious about their no talking and texting rule, and we couldn't be more grateful. We only wish more theaters were as firm on the rude practices of some movie goers. However, if Sharlto Copley were really going to come in and harass me for talking and texting during the movie, I might actually be inclined to break the rules just one time.
Anyway, hopefully you won't be the one breaking the rules when/if you see Hardcore Henry next weekend. Really the only reason you should be asked to leave a showing of Hardcore Henry is if you're about ready to throw up. And considering the fact that it's all shot in the shaky, first-person perspective, there's a good chance that might happen to some people. Maybe bring an air sick bag just in case.
If you want to know if Hardcore Henry is really worth your time, check out our review from SXSW right here. Or if you want to know more about how they pulled off this uniquely shot flick, check out our interview with director Ilya Naishuller over here.