Aaron Sorkin Reteams With NBC For 'A Few Good Men' Live Production In 2017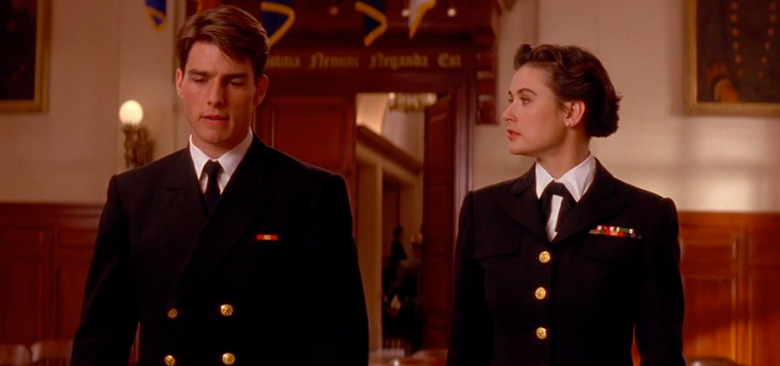 Continuing their trend of live event television, NBC has announced their next production will reteam the network with their The West Wing and Studio 60 on the Sunset Strip creator and writer Aaron Sorkin for a live presentation of the acclaimed courtroom drama A Few Good Men. So instead of watching the movie when it's on TNT every single weekend, you can see it unfold live on TV in 2017. Find out who else is behind the production after the jump.
Aaron Sorkin will be back to adapt his own script and produce the live broadcast of A Few Good Men. Before it became a feature film in 1992 starring Tom Cruise, Demi Moore, Jack Nicholson, Kevin Bacon and Kevin Pollak, the courtroom drama debuted on Broadway in 1989 and landed Tom Hulce (Amadeus) a Tony Award for playing the lead role.
If for some reason you haven't seen A Few Good Men, here's the official synopsis from the film:
Lt. Daniel Kaffee (Tom Cruise) is a military lawyer defending two U.S. Marines charged with killing a fellow Marine at the Guantanamo Bay Naval Base in Cuba. Although Kaffee is known for seeking plea bargains, a fellow lawyer, Lt. Cdr. JoAnne Galloway (Demi Moore), convinces him that the accused marines were most likely carrying out an order from a commanding officer. Kaffee takes a risk by calling Col. Nathan R. Jessep (Jack Nicholson) to the stand in an effort to uncover the conspiracy.
The original play was set in 1986 while the film took place in present day. However, since so much time has passed since either adaptation, it'll be interesting to see if the play is updated for the contemporary time period. Since I haven't seen the actual play, I'm not sure how much of a difference there is between the play and film, but I do know that the play has Kaffee defending three Marines instead of two.
In addition, Sorkin's language will be a little restricted since this will be unfolding on live television. That could take away some of the impact that a few of Jack Nicholson's lines had in the film, but I'll mostly be mourning the loss of Tom Cruise's line, "You're a lousy fucking softball player, Jack."
In addition to Sorkin, the play will be produced by Craig Zadan and Neil Meron, who previously worked on NBC's musical series Smash as well as their live presentations of Peter Pan, The Sound of Music and The Wiz. They also produced the Oscars broadcast last year, and worked on the Best Picture winning Chicago. While it would be incredible to see a musical version of A Few Good Men, it looks like this will just be a straight-up live stage play.
There's no casting information available yet, but finding someone to fill the roles played by Tom Cruise and Jack Nicholson isn't going to be easy. However, I hope some interesting talent comes on board for various witnesses and experts brought into the courtroom – roles that were portrayed by the likes of Kiefer Sutherland, Christopher Guest, Cuba Gooding Jr. and Noah Wyle.
We'll let you know when more information on A Few Good Men live becomes available.