Terry Gilliam's 'Don Quixote' Defies God And Man, Will Shoot This September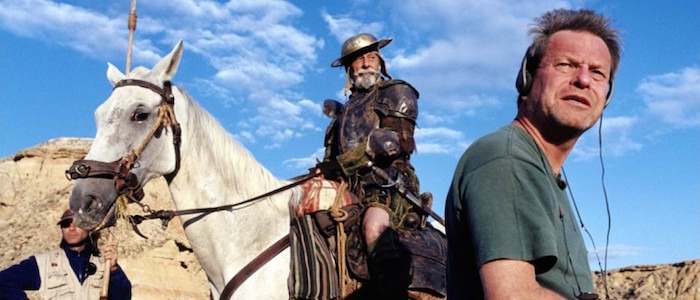 A powerful, malevolent force of some kind does not want Terry Gilliam to make The Man Who Killed Quixote. It's the only angle that makes sense. Something grand and mysterious and unforgiving has set its sights on Gilliam, one of our most fascinating living filmmakers, and declared "This film will not happen." The evidence exists in headlines that go back for more than a decade – this movie has almost come together, only to be derailed at the last moment, too many times to count.
But Terry Gilliam, the genius/mad man behind Brazil, Time Bandits, The Fisher King, and Twelve Monkeys, won't let the universe stand in his way. His passion project has officially earned new financing and will go before cameras this September. Or at least that's the plan. There's still plenty of time for a higher power to drop an airplane on Gilliam's house or something.
The latest producer to tempt fate and try to get The Man Who Killed Don Quixote made is Paulo Branco, who will produce through his Paris-based Alfama Films. Spain's Tornasol Films and Portugal's Leopardo Filmes will co-produce. The Hollywood Reporter, who broke this news, says that the film will have a budget of $18 million. Hopefully, a portion of that went to some pretty strong insurance. They'll need it when a herd of wild animals trash the set in the night before accidentally lighting all of the camera equipment on fire.
This may sound like an exaggeration to anyone who hasn't seen the jaw-dropping 2002 documentary Lost in La Mancha, which chronicles Gilliam's initial attempt to film The Man Who Killed Don Quixote. This fantastical riff on Miguel de Cervantes' legendary novel was set to star Johnny Depp as a modern man who goes back in time and joins the titular character on an epic adventure. Don Quixote himself was going to be played by Jean Rochefort. It all looked very promising. And then cameras started to roll and every single thing that could possibly go wrong went wrong. Flash floods arrived. Nearby NATO aircraft testing began. Major injuries occurred. You don't have to be a filmmaker to watch this thing and have a panic attack.
Gilliam has tried to get the film off the ground many times since then and each attempt has ended in failure. Ewan McGregor and Robert Duvall were attached to star at one point, but the film couldn't secure financing. At several points, Gilliam has talked about radically altering the original concept so it could be made for a much smaller budget.
And then Gilliam cast John Hurt and Unbroken star Jack O'Connell, but production was delayed when Hurt was diagnosed with cancer. When he signed a deal with Amazon Studios, Gilliam indicated that they would finance the film, but nothing ever came of that. In the midst of all of this, Gilliam was accidentally pronounced dead by the media, forcing the director to announce that he was still drawing breath (and promote his excellent memoir).
But John Hurt has been given the all-clear by his doctors. The budget is seemingly secure. If he's still alive in September, Terry Gilliam will finally shoot The Man Who Killed Don Quixote. Hopefully. Let him have this one, God.