The Gas Station From 'The Texas Chain Saw Massacre' Is Becoming A BBQ Restaurant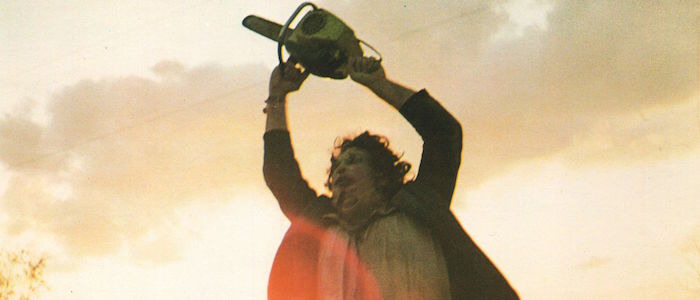 A few years ago, I made a pilgrimage to the original locations where Tobe Hooper shot his 1974 horror classic The Texas Chain Saw Massacre and wrote about the experience at ScreenCrush. The home of the cannibalistic Sawyer family has been relocated to Kingsland, Texas, where it is now a quaint restaurant. The original site of the house now overlooks an overpass and the developers are closing in. You can now see a Little Caesar's and a Crossfit gym from the formerly isolated cemetery where the film begins. And the gas station where the Sawyer family cooks up their victims had fallen into miserable disrepair and looked ready to topple over in a stiff breeze.
But now, that dilapidated gas station in Bastrop, Texas is getting a second chance. Bilbo's Texas Landmark is being transformed into a horror movie-themed barbecue restaurant and resort.
The project is the work of an Ohio businessman named Roy Rose, who stepped in and bought the crumbling property last year. The Guardian cites Rose's ongoing love of the The Texas Chain Saw Massacre as the reason for the acquisition, but the resort sounds like it'll cater to horror fans of all kinds. He's even brought Ari Lehman, who played young Jason Vorhees in the original Friday the 13th, on board as a partner.
Here's how Rose described the project:
We're going to build a 'horror barbecue resort', we're going to put cabins in the back for all the fans that want to come and stay the night.
The restaurant and resort will also feature a stage for musical performances, a screen to show movies, and, of course, a gift shop.  No official opening date has been set, but the Facebook page indicates that July of this year is a possibility.
Perusing the photos at the links above is a heartening experience. When I visited Bilbo's Texas Landmark in 2014, it was filthy. You couldn't even get too close without climbing over trash and wreckage. Seeing such an iconic film location literally falling apart before my very eyes was painful. So seeing it painstakingly restored and repainted by someone who seems to actually care about the legacy of this building and its significance to pop culture is the kind of news that makes my week. And since horror fans are a passionate bunch who have no qualms about traveling great distances to visit conventions, this could be a huge success. I know I'm going to be checking it out as soon as it opens.
Meanwhile, a prequel to The Texas Chain Saw Massacre, titled Leatherface, is due out later this year. I don't know about you guys, but I think I know where it should host its premiere...