'Ghostbuster' Image: Rock Out With Your Proton Packs Out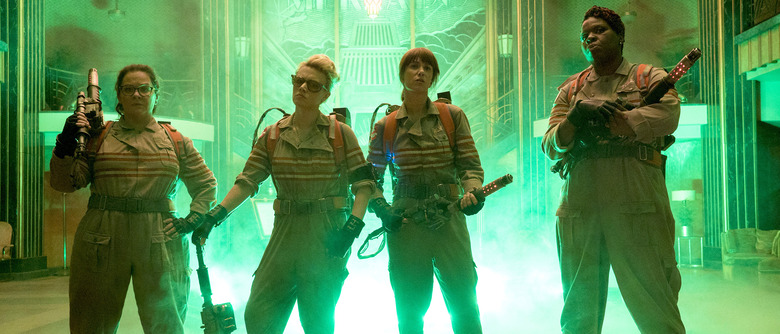 The new Ghostbusters movie has damn big shoes to fill. Ivan Reitman's 1984 is a stone-cold classic that millions of Gen Xers and Millennials around the world have grown up with, and Ghostbusters II is remembered with great affection even if it's not quite up to par. It's hard to imagine anyone else quite replacing the original foursome, which may be why director Paul Feig isn't really trying. There's no "new Venkman," or new Ray or Winston or Egon for that matter.
Instead, Feig's serving up a whole new team. And if the trailers, posters, and images are any indication, this new gang is more than capable of keeping New York safe from supernatural forces. The latest Ghostbusters image shows the new Ghostbusters team lighting up their newly redesigned proton packs, and looking pretty damn cool doing it. Check it out below. 
Empire unveiled the latest Ghostbusters image.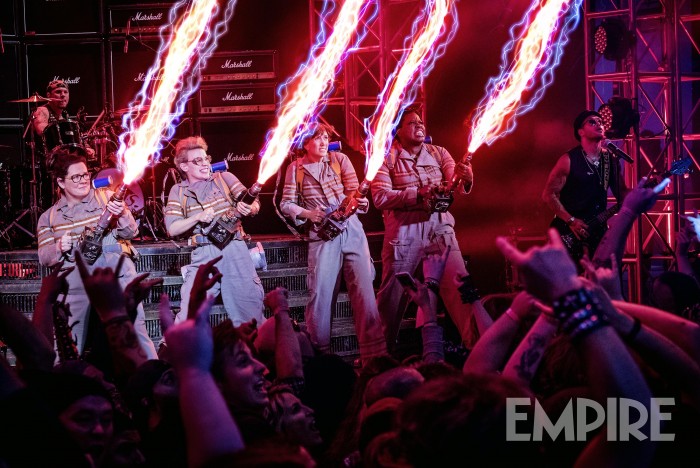 The image shows Abby Yates (Melissa McCarthy), Jillian Holtzmann (Kate McKinnon), Erin Gilbert (Kristen Wiig), and Patty Tolan (Leslie Jones) lined up at a rock show, unleashing their proton packs while the musicians play on and concertgoers enthusiastically throw devil horns. We previously heard some details about the scene when it shot back in August, and got a glimpse at the finished product in the international trailer. "I wanted my ladies to be badass," Feig told Empire. "I wanted them to get in over their heads and fight ghosts. I like the idea of them having to enter a giant setting and take on ghosts."
Ghostbusters represents a slight change of pace for Feig, in that he's never directed an action-comedy-horror mash-up before. But as he sees it, it's a natural progression of his affection for the action genre. "I like action movies," he said. "I got to play with that in Spy, and it felt very natural here. It makes it fun and very unexpected for people when they hear it's four lady Ghostbusters."
Though the trailers aren't exactly going out of their way to flaunt it, the new Ghostbusters is in fact a reboot, not a sequel. Feig's spoken at length about why he made that choice, and though some longtime Ghostbusters fans are less than thrilled with it, the new film has a lot to recommend it. Like a cast that includes not only the four very funny actors you see above, but also Chris Hemsworth leaning into his whole surfer-bro vibe, and some snazzy new updates to familiar Ghostbusters technology like those proton packs. If nothing else, it should give you a whole range of new costume ideas when Halloween comes around later this year.
Ghostbusters arrives July 15, 2016.
Thirty years after the original film took the world by storm, Ghostbusters is back and fully rebooted for a new generation. Director Paul Feig combines all the paranormal fighting elements that made the original franchise so beloved with a cast of new characters, played by the funniest actors working today. Get ready to watch them save the world this summer!