'Mother's Day' Trailer: Jennifer Aniston Doesn't Want To Tweet At You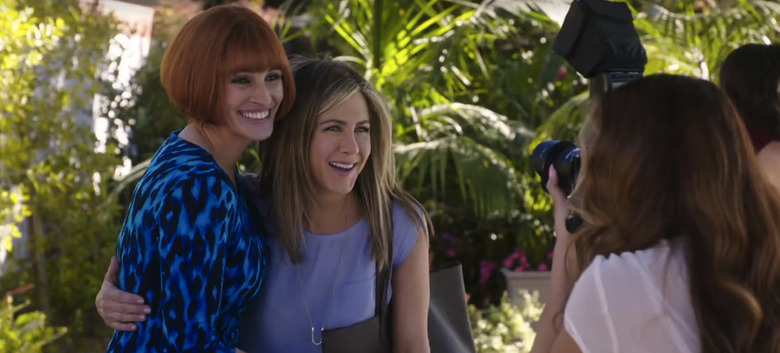 It's almost time for another holiday centric comedy from director Garry Marshall. However, this time the cast of Mother's Day doesn't seem quite as packed to the gills with celebrities as its predecessors Valentine's Day or New Year's Eve. Instead, it's Jennifer Aniston, Julia Roberts, Kate Hudson, Britt Robertson, Sarah Chalke, Shay Mitchell, Jon Lovitz, Aasif Mandvi, Timothy Olyphant and Margo Martindale starring in the movie, which follows multiple interconnected storylines.
Now a new trailer introduces some characters we haven't met before, including Mitchell (who debuted the trailer across her social media channels) as Olyphant's new girlfriend — which doesn't really sit well with his ex-wife, played by Aniston. Watch the new Mother's Day trailer with your mom or significant other after the jump.
The new Mother's Day trailer was debuted by Shay Mitchell, but comes to us from Open Road Films:
It seems appropriate that Mitchell debuted the trailer since it features some jokes about Twitter, including ones about Aniston and Hudson's characters seeming thoroughly out of touch regarding social media. For those who don't know, Mitchell is one of the stars of the ABC Family Freeform show Pretty Little Liars, and she apparently has quite an online following with nearly 5 million likes on Facebook and over 3.2 million followers on Twitter. This is movie marketing today, folks.
Anyway, I find it interesting that the star-studded cast has seemingly been reeled in a bit, hopefully to allow for a story that doesn't jump around quite as much and allows some kind of connection to the characters beyond, "Oh, hey, they're in this too!" But then again, maybe the marketing is just holding back some of the names involved for surprise cameos.
Honestly, I'm far more interested in Garry Marshall reuniting with Anne Hathaway for The Princess Diaries 3, but I'm sure my mother will want to head to theaters to see this one for her special weekend. If you want to see more from the movie, check out the first trailer right here.
'Mother's Day' is the latest star studded ensemble comedy from director Garry Marshall (Pretty Woman, Valentine's Day).  Bringing together Jennifer Aniston, Kate Hudson, Julia Roberts, Jason Sudeikis, Shay Mitchell, Britt Robertson & Timothy Olyphant, it's a celebration of mothers everywhere.  This big-hearted comedy invites us all to enjoy the laughter, tears and love as three generations come together in the week leading up to Mother's Day.
Mother's Day hits theaters in one month on April 29.