Woody Allen's 'Cafe Society' Confirmed To Open Cannes 2016, New Photo Revealed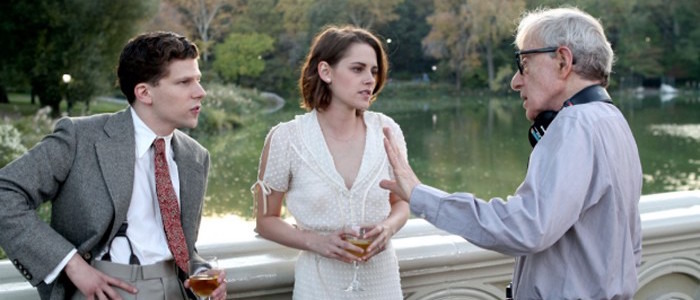 Rumors had been swirling for awhile that Woody Allen's next film, titled Cafe Society, would open the 2016 Cannes Film Festival. Today an official announcement confirmed those rumors, making this the third time Allen has opened the French film festival. Hollywood Ending and Midnight in Paris had the honor in 2002 and 2011 respectively.
Cafe Society, starring Kristen Stewart and Jesse Eisenberg, will premiere at the festival on May 11th, and along with this news, we finally have an official logline. In traditional Woody Allen fashion, it doesn't tell us a whole lot about what we can expect from the romance, but some details were recently revealed by cinemtographer Vittorio Storaro. In addition, a new photo from the movie was revealed that you can see below.
See the Cafe Society photo after the jump along with some new details on the movie.
First up, here's the new photo from Cafe Society from the official Cannes website: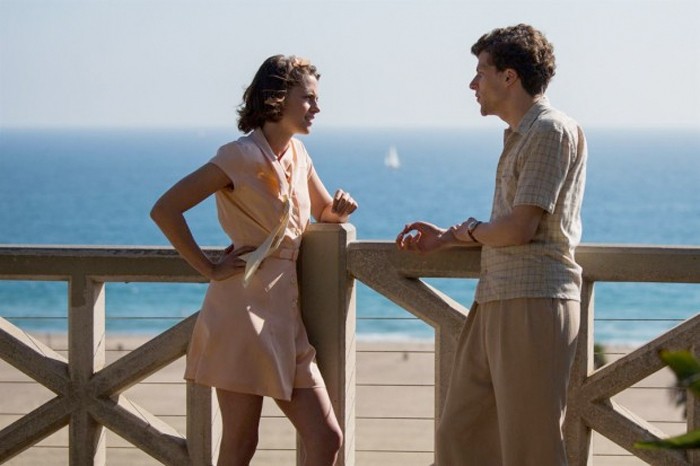 The official logline for the film describes the story like this:
The film tells the story of a young man who arrives in Hollywood during the 1930s hoping to work in the film industry, falls in love, and finds himself swept up in the vibrant café society that defined the spirit of the age.
But in a recent interview with Vittorio Storaro from CineAlta (via Woody Allen Pages), the cinematographer revealed some additional details. Storaro described the story as being about "a Jewish family that lives in New York. One member of the family goes to Los Angeles to be a film agent, so the story goes back and forth between the Bronx in 1935 and Hollywood in 1935-40."
That doesn't sound like much in the vein of extra details, but when Storaro talks about his approach to shooting the movie based on the story's different settings, we get a taste of what we can expect from the film:
At the beginning we made it very clear the fact that the way that [Woody] was thinking the visualization of the picture could be was exactly the way I was already reading the script. I spent two hours with Woody speaking about he vision for the film, and I had prepared myself with three different styles – the Bronx, Hollywood, and the character's return to New York, when he's participating in a higher social level, with dinners in tuxedos.
In addition, it sounds like Woody Allen is toying with the idea of narrating the film himself:
First of all, I loved the fact that this is really a Woody Allen movie in the sense that he's the narrator. I recognized his personality in it. He is deciding if it will actually be his voice doing the narration, and I hope it will. With narration, we can be more free, in some ways, in telling the story. With a narrator, you lose contact with reality, and the world is a paint picture, which can require some kind of visual reference in connection with the social, political, artistic period of the film.
Narration doesn't seem like a fascinating detail, but it can be an insightful element of the story since we're seeing it unfold through a certain character's perspective. You don't always think of the voiceover like that when you're watching a movie, but at the very least Woody Allen's voiceovers are particularly interesting in his movies, and also usually entertaining. But it remains to be seen just what kind of insight the narration might offer in Cafe Society.
Cafe Society also stars Steve Carell, Parker Posey, Blake Lively, Corey Stoll, Paul Schneider and Judy Davis, and the film will likely hit theaters later this year after premiering at Cannes on May 11th. The official press release from Cannes follows below:
The 69th Festival International du Film de Cannes will launch with a screening of Woody Allen's new film, Café Society, on Wednesday 11 May in the Palais des Festivals's Grand Théâtre Lumière as an Official Selection Out of Competition title. It's a record-breaking coup for the New York director who has already opened the Festival twice, in 2002 with Hollywood Ending, and again in 2011 with Midnight in Paris.
The film tells the story of a young man who arrives in Hollywood during the 1930s hoping to work in the film industry, falls in love, and finds himself swept up in the vibrant café society that defined the spirit of the age.
Café Society features two rising stars from Hollywood's up-and-coming generation, Kristen Stewart and Jesse Eisenberg alongside a stellar cast of acclaimed actors including Blake Lively, Parker Posey and Steve Carell. Stewart climbed the Red Carpet Steps at Cannes in 2012 for On the Road by Walter Salles and then in 2014 for Olivier Assayas's Clouds of Sils Maria, which earned her a César. Jesse Eisenberg starred in Louder than Bombs by Joachim Trier, In Competition last year.
Woody Allen also joined forces with Vittorio Storaro for the film. The eminent director of photography was a member of the Feature Film jury in 1991 and is a three-time Oscar winner for Apocalypse Now by Francis Ford Coppola in 1980, Reds by Warren Beatty in 1982, and The Last Emperor by Bernardo Bertolucci in 1988.
From Manhattan in 1979 to Irrational Man in 2015, this will be the fourteenth Out of Competition selection at Cannes for the American director, screenwriter, actor, writer and comedian. Woody Allen was born in New York on 1 December 1935 into a Jewish family of Russian-Austrian descent. A prolific film-maker for the past forty years, directing virtually a film a year since the 1970s, he is also a jazz clarinettist. His career in film began in 1965 with What's New Pussycat? which he both wrote and acted in. Then came his directorial debut – What's Up Tiger Lily? – in 1966. He soon began to star in his own films, going on to win four Oscars (for Annie Hall in 1978, Hannah and Her Sisters in 1987 and Midnight in Paris in 2012). He has been nominated twenty times for the famous award, which he has never turned up to collect. Manhattan, Match Point, Take the Money and Run, Vicky Cristina Barcelona, The Purple Rose of Cairo and Deconstructing Harry number among his other successes.
Café Society was produced by Letty Aronson (Gravier Productions), Stephen Tenenbaum and Edward Walson, as a co-production with Helen Robin (Perdido Productions). Executive producers were Ronald L. Chez, Adam B. Stern and Marc I. Stern. The film was sold by FilmNation Entertainment and distributed on French territory by Mars Films.
In France, its release in cinemas is scheduled to coincide with the official opening of the Festival de Cannes on Wednesday 11 May, 2016.
The opening ceremony, hosted by Laurent Lafitte, will be broadcast by Canal +.
The 69th Festival International du Film de Cannes will take place between 11 and 22 May, 2016. The Competition Jury will be presided over by George Miller, and the Official Selection titles are due to be announced on 14 April.