Star Wars Bits: Ewan McGregor On That Rumored Obi-Wan Kenobi Spin-Off, The Return Of Lando Calrissian, And The Origins Of "Nerf Herder"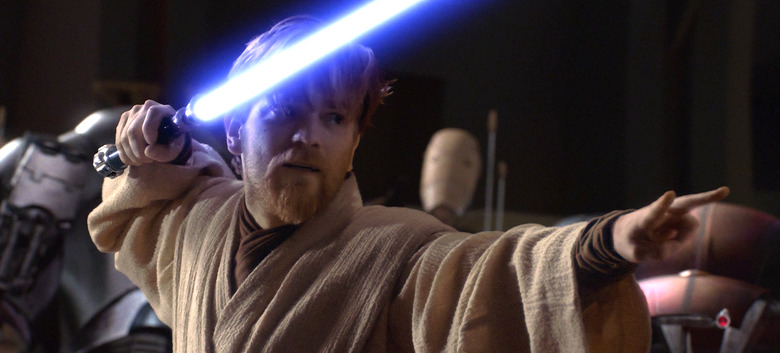 In today's edition of Star Wars Bits:
Ewan McGregor chats about the possibility of an Obi-Wan Kenobi movie.
Billy Dee Williams is set to return to Star Wars Rebels.
A not-so-beloved Star Wars character makes a bizarre cameo.
Gary Whitta is working on another episode of Star Wars Rebels.
The strange origins of "nerf herder."
Yes, Knights of the Old Republic did inspire something in Star Wars Rebels.
A Star Wars-themed motorcycle, complete with lightsaber holster.
An extended look at the DLC for Star Wars Battlefront.
Collider sat down with Ewan McGregor to talk about his role in the new film Miles Ahead, but naturally, the conversation eventually shifted to Star Wars. On the subject of the long-rumored Obi-Wan Kenobi spin-off film, McGregor admits that there's definitely a movie there:
I'd very much like to do one too. I think the story between Episode III and Episode IV, I think there's a story there. I think that's the Obi-Wan Kenobi movie, if there is one. The one that bridges my Obi-Wan Kenobi and Alec's Obi-Wan Kenobi because there's a—I don't know how long he's in the desert there, but it's got to be twenty or thirty years.
But he wouldn't confirm if he had met with Lucasfilm or Kathleen Kennedy:
I'm not sure I'm at liberty to say, really, but I'm very interested in doing that. That would be great. Maybe there's even a trilogy!
So there you go. McGregor agrees with you – a new Obi-Wan movie would be great.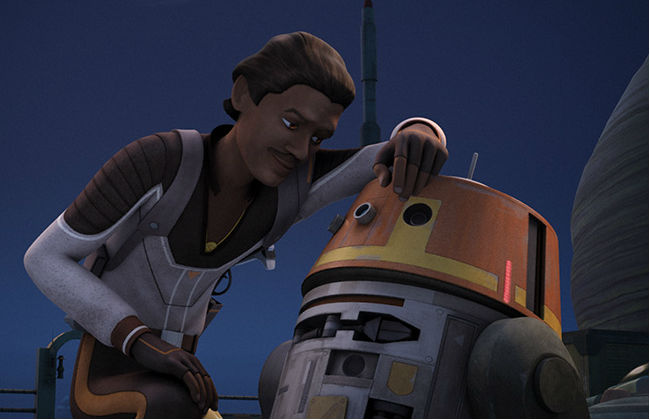 In a welcome piece of news, it looks like Lando Calrissian will be making his grand return to Star Wars Rebels and that Billy Dee Williams will one again voice his iconic character. Williams made his series debut in the season two premiere, "The Siege of Lothal," and plenty of interesting things surely happened to one of the suavest, slimiest, most heart-of-gold-iest crooks in the galaxy between then and the events of The Empire Strikes Back. Since he'll be back for two episodes in season three, it looks like we'll get to see a few of them.
Back at it today. #GetToTheChopper pic.twitter.com/n1CmOPD8J2

— Gary Whitta (@garywhitta) March 24, 2016
Meanwhile, it looks like writer Gary Whitta (who worked on the screenplay for Rogue One: A Star Wars Story) is continuing his involvement in Star Wars Rebels. Whitta revealed last year that he was writing an episode of the series, so we can make two assumptions about this new tweet: he's either working on the same episode (unlikely) or he's writing another episode (more likely). In either case, Rebels and Whitta are both class acts and are lucky to have one another.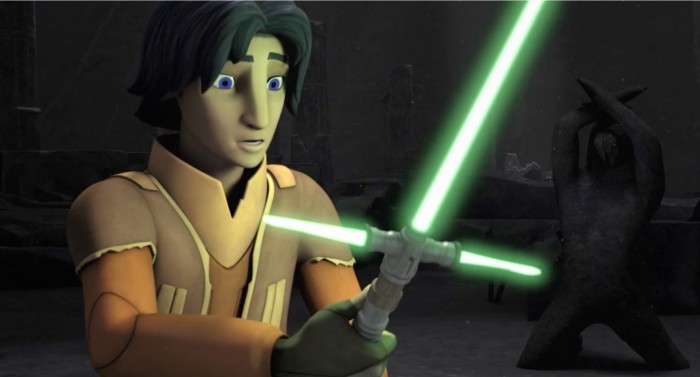 In more Star Wars Rebels news, executive producer Dave Filoni recently sat down with Bleeding Cool and their conversation shifted toward the beloved Star Wars: Knights of the Old Republic video game. For many fans, the planet Malachor was first made known to them through these games, so revisiting the location in the season two finale allowed them to draw a satisfying connection between different points in Star Wars lore. Filoni says this was no accident:
For George [Lucas], the TV series and the films are what really mattered. They were the continuity [and] we would mine the Expanded Universe for more information. When you need a Sith type planet or an evil place, it's great if you can draw on a place the fans are already aware of. [I can] use a place like Malachor and firmly put it into the lore ... I was a fan for so long before being on this side of the camera that I can acknowledge the history of the fandom that came before what I've been doing.
Naturally, Filoni declined to say if more expanded universe content would make its way into Rebels, but at least now we know that he's not opposed to the idea.
was this for you @ShaneWatch? https://t.co/uX3FnPzbpH

— Woney For Nothing (@NonTrotski) March 22, 2016
If you're playing the newly remastered version of Day of the Tentacle, the beloved 1993 LucasArts point and click adventure game, look closely. It seems that the developers have done a great and terrible thing: they've snuck Jar Jar Binks into the background as a portrait. Way to troll everyone, guys.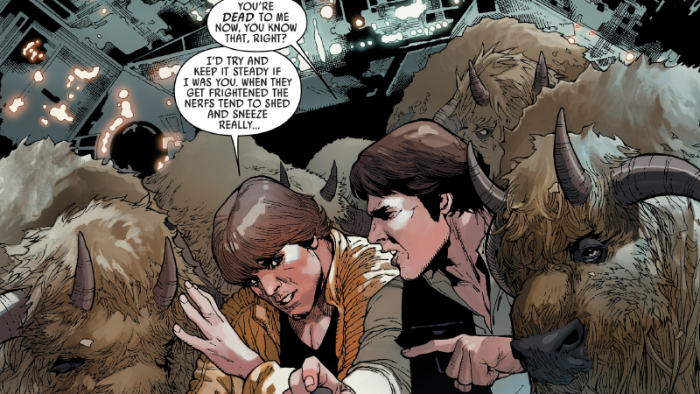 Because no stone can be left unturned in the expanded Star Wars universe, the most recent issue of Marvel's comic series (set in between the events of A New Hope and The Empire Strikes Back) has revealed the origin of one of the original trilogy's most quoted and bizarre lines of dialogue. Remember Leia calling Han Solo a "scruffy-looking nerf herder"? It turns out that this is a bit of a low blow and a reference to the time Han lost Rebellion funds while gambling and was forced to literally transport a bunch "nerf" (shaggy, horned aliens) to make up for it.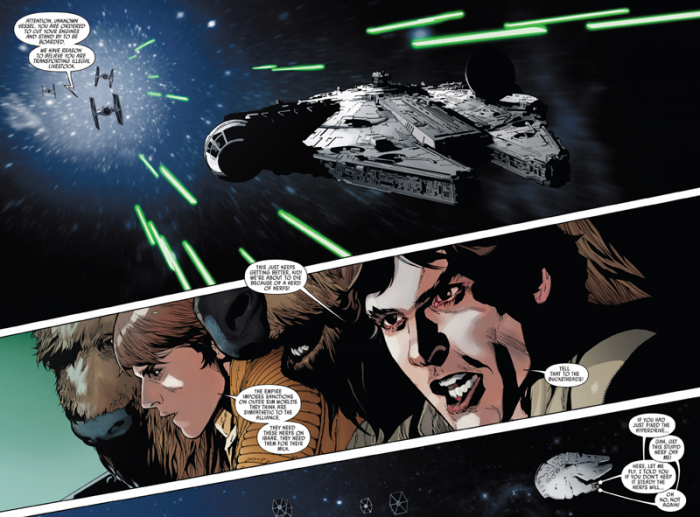 And while Han Solo may be a scoundrel and a half, Harrison Ford is no such thing. The beloved actor has donated the leather jacket he wore in Star Wars: The Force Awakens to an auction to benefit Finding a Cure for Epilepsy and Seizures, otherwise known as FACES. Ford, whose daughter has epilepsy, issued this statement:
I've been very impressed with the work NYU and the FACES team have done in the field of epilepsy research, and I hope this jacket will provide some means to further that exploration. This is a cause that's near and dear to me, and unlike the cynical Han Solo, I've got a good feeling about this.
If you're pumped for more Star Wars Battlefront, this video will give you the fix you need. And then some. Seriously, it's a two-hour look at all of the upcoming DLC for the game, offering in-depth looks at new maps, modes, weapons, and hero characters. Chances are strong that you've made up your mind about Battlefront by now and know whether or not you're willing to plunk down extra cash for more content, but here you go.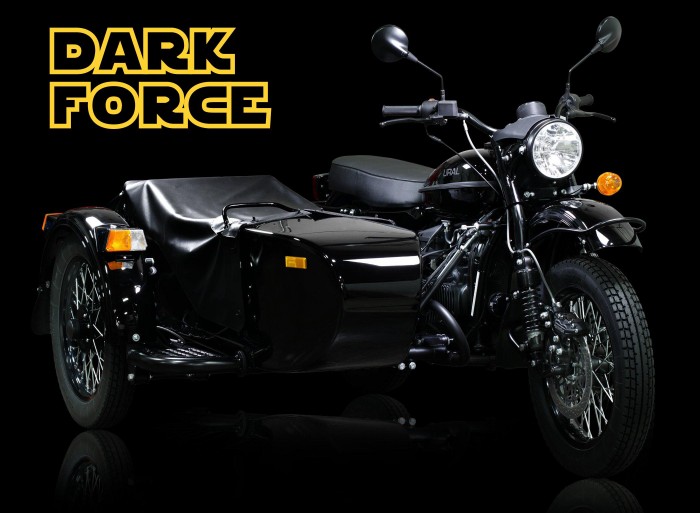 If you're the kind of person who loves motorcycles and Star Wars, you're in luck. The Ural Dark Force has arrived and and it will only cost you $14,999. And yes, it seems to come with a holster for your lightsaber. Here's how it's described on the official site:
From a factory far, far away; nestled in the Ural Mountains, comes the Dark Force. Standard equipped with Lightsaber®, LED lighting, and fully blacked out to hide you in the shadows.
Inspired by the world of Star Wars®, we created a motorcycle that lets your inner child explore the dark side with little damage to the real world balance of power. Come to the dark side...we've got sidecars!
You can check out more images in the gallery below.