Exclusive: 'April And The Extraordinary World' Clip Features A Dangerous Chase Through Steampunk Paris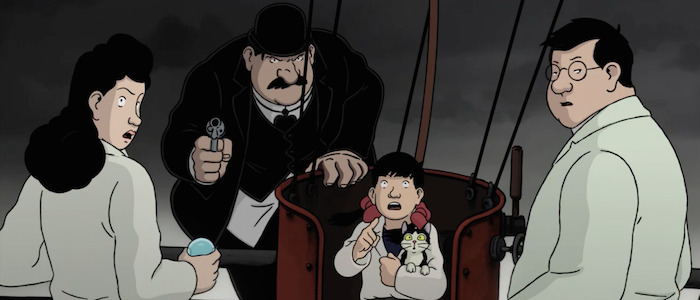 Last week, the trailer for the American release of April and the Extraordinary World arrived and it wasn't a particularly impressive piece of marketing. However, having seen this animated science fiction adventure at Fantastic Fest last year, I noted that the preview doesn't fully represent the oddball joys of this imaginative and thoroughly entertaining movie.
And now, we're pleased to debut a clip from Christian Desmares and Franck Ekinci's film, which will hopefully paint a stronger picture of what this delightful and frequently bonkers movie actually feels like. Seriously, if you're a fan of alternate history science fiction, talking animals, or animated films that don't feel compelled to color inside the usual Hollywood lines, this should be on your radar.
Set in a alternate history version of Paris circa 1941 (Napoleon V rules the land and everything is powered by coal), April and the Extraordinary World follows a young woman and her (awesome) talking cat as they seek out her scientist parents, who were abducted when she was a young girl. Naturally, they stumble upon a much larger conspiracy that leads to some very strange and unexpected places.
The clip comes from the beginning of the film, where young April and her parents are being pursued by authorities desperate to force them into government service. However, things go awry for both parties when something else arrives.
It should be noted that this clip is from the dubbed version of the film and that Pizoni, the bumbling inspector seen in this clip, is voiced by the great Paul Giamatti. Although you should probably see this in the original French if given the chance, the English language version seems perfectly fine at quick glance. It's hard to go wrong wrong with casting Giamatti in anything, really.
In addition to Giamatti, the film's American cast includes Tony Hale, Susan Sarandon and J.K. Simmons. Here is the official synopsis:
Paris, 1941. A family of scientists is on the brink of discovering a powerful longevity serum when all of a sudden a mysterious force abducts them, leaving their young daughter April behind. Ten years later, April lives alone with her cat, Darwin, and carries on her family's research in secret. But she soon finds herself at the center of a shadowy and far-reaching conspiracy, and on the run from government agents, bicycle-powered dirigibles and cyborg rat spies.
April and the Extraordinary World opened in New York last week and it expands to Los Angeles this Friday. It will continue to expand across the United States throughout the month of April. You can head over to the film's official site to see if and when it's playing near near you.