'Suicide Squad' International Trailer: Let's Do Something Fun, Now With More Footage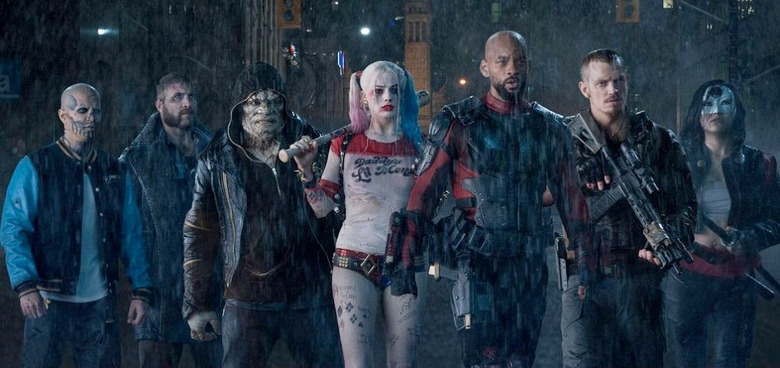 If you're one of the DC Comics fans who ended up disappointed by Batman v Superman: Dawn of Justice, the good news is that there's one more film you can look forward to later this year that will expand the cinematic universe and might lessen the blow. Suicide Squad is bringing together a bunch of villains and nefarious criminals from the comic books for a ragtag assembly of unlikely heroes who are tasked with unsavory missions, only so that if they go wrong, no one respectable can be blamed.
Now a new Suicide Squad trailer has surfaced from overseas, showing off some new footage from the comic book flick and keeping things a little more fun and fast-paced than the first trailer by dispatching with the ballad portion of Queen's "Bohemian Rhapsody" a little quicker than the first time around.
Watch the new Suicide Squad trailer after the jump.
Thanks to Marvel and DC United for bringing this international Suicide Squad trailer to our attention:
Roughly the first minute of the trailer is recycled footage from the first trailer, just paced a little quicker. But the last 40 seconds is full of a bunch of little action snippets that we haven't seen yet, including new shots of  Will Smith as Deadshot, a master assassin who never misses; Margot Robbie as Harley Quinn, the adorably insane admirer of the Joker; Adewale Akinnuoye-Agbaje as the grotesque Killer Croc, one of Batman's coolest villains; Jai Courtney as Captain Boomerang, who enjoys a good beer and has an Australian accent; and of course, Jared Leto as a new version of The Joker, full of tattoos, bling and cruising around in an Lamborghini.
Plus, there's Joel Kinnaman's Rick Flagg, who is being ordered around by Viola Davis' Amanda Waller, who is just using these bad guys to do some dirty work. Oh, and don't forget that Ben Affleck is going to pop up as Batman at some point, which will be the first time director David Ayer tackles a superhero on the big screen.
Personally, I'm already way more excited about this DC Comics title than I was after watching any of the trailers for Batman v Superman. I'm just hoping that with all these characters involved the movie isn't a mess that tries too hard to plant more seeds in the developing DC Comics cinematic universe. After all, there's already a sequel in the works, so there's a lot riding on this one too.
If you haven't seen the first trailer yet, you can check it out over here, along with our breakdown of the trailer right here, pointing out some little details that you may not have noticed. Suicide Squad arrives on August 5.
Thanks to USA Today for the high resolution header image.