'Lights Out' Trailer: Teresa Palmer Gets Haunted By Maria Bello's Shadowy, Dead Friend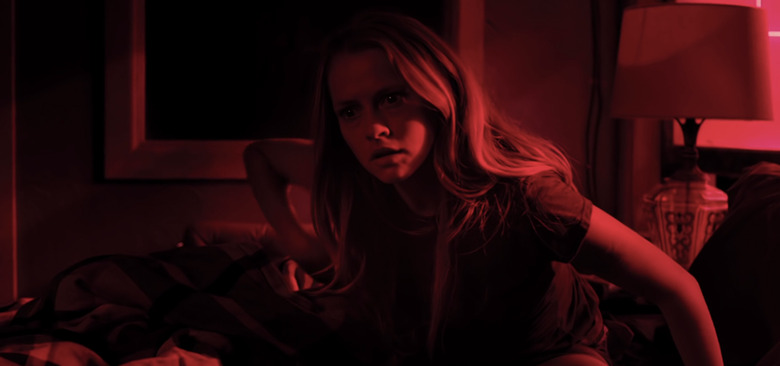 Director James Wan brings his brand of horror back to the big screen this summer with The Conjuring 2 (watch the most recent trailer right here), but he's also got more scares up his sleeve as the producer of a new, original horror story called Lights Out.
Rebecca (Teresa Palmer of Triple 9) thinks she escaped her childhood fears when she left home. But now when she comes back, it's clear that what scared her as a child is still lurking in her mother's house, and it's scaring the hell out of her little brother Martin. Not that the dark wasn't already scary before, but this looks to make it even more terrifying.
Watch the Lights Out trailer after the jump.
Here's the Lights Out trailer from Warner Bros. Pictures:
That creepy, shadowy woman is unnerving enough, but potentially even more horrifying is that fact that Rebecca's mother, played by Maria Bello, seems to be complicit in her haunting the house. But hopefully there's more than just jump scares in this flick, because that can get old and cheap after awhile.
James Wan is only producing this film with David F. Sandberg making his feature directorial debut, based on his own short film. In fact, you can watch the short film, which is just under three minutes long, right here:
The short has been adapted by Eric Heisserer, who previously wrote Final Destination 5 and the remakes of A Nightmare on Elm Street and The Thing. Wan also brought some other key horror players into the production with Insidious production designer Jennifer Spence and The Conjuring editor Kirk Morri on board, not to mention Furious 7 director of photography Marc Spicer on the camera.
When Rebecca left home, she thought she left her childhood fears behind. Growing up, she was never really sure of what was and wasn't real when the lights went out...and now her little brother, Martin, is experiencing the same unexplained and terrifying events that had once tested her sanity and threatened her safety. A frightening entity with a mysterious attachment to their mother, Sophie, has reemerged. But this time, as Rebecca gets closer to unlocking the truth, there is no denying that all their lives are in danger...once the lights go out.
Lights Out brings the darkness to theaters on July 22.