Mondo Reveals 'Batman V Superman: Dawn Of Justice' Poster From Ken Taylor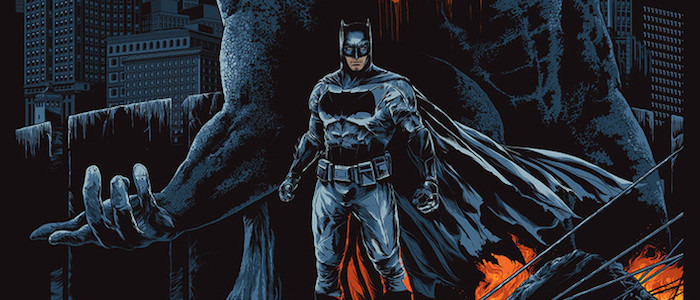 You don't have to be a fan of a movie to dig a great movie poster. With the internet currently embroiled in the great Batman v Superman: Dawn of Justice war (our own Peter Sciretta is on the side of the dissenters, as is David Chen), the good folks at Mondo has offered an olive branch of sorts. Whether you like the movie or not, surely we can all agree that this new poster from the great Ken Taylor is pretty darn cool, right? Because if not, what kind of world are we fighting for in the first place?
Mondo unexpectedly put their latest poster and its variant on sale earlier today and, like clockwork, they promptly sold out. Still, fans should take heart – the secondary market for Mondo posters tends to be pretty reliable. If you wait a little while, you may be able to snag one of these from one of those damn dirty eBay flippers for not much more than the original $50 and $75 asking prices.
In the meantime, you can admire the poster and its variant below, which depicts the Dark Knight standing at the base of that defaced Superman monument. As you can see, the variant doesn't just change the color scheme – it replaces regular 'ol Batman with armored, ready-to-punch-Superman Batman.
Taylor is a Mondo regular and his work has always been nothing short of stunning. He has that unique ability to perfectly capture the characters and subject matter of any given movie while still retaining a style that is all his own. This also isn't the first time he's tackled these two DC comic book titans. Taylor's stunning poster for 2013's Man of Steel is one of the finest prints Mondo has ever put its name on. His poster for Tim Burton's Batman, created for a special screening of the film at MondoCon, is impressive stuff, too.
Batman v Superman: Dawn of Justice is in theaters now and from the look of things, it will be the subject of internet debate for a long, long time. Come back on Monday for an in-depth, spoiler-filled discussion/review/breakdown. In the meantime, go see the movie and make up your own mind before you join the conversation. If you want to join the war, you might as well arm yourself with the right talking points.