Netflix's 'Voltron: Legendary Defender' Trailer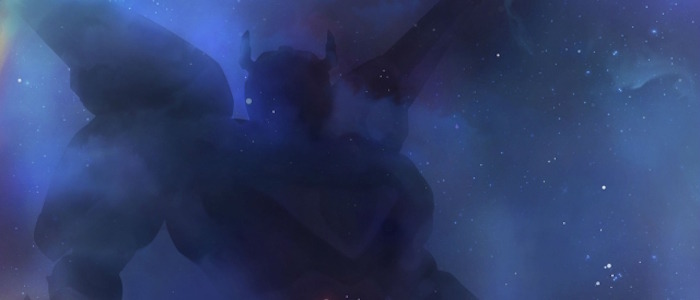 Update from Editor Peter Sciretta: the first trailer for Netflix's new series Voltron: Legendary Defender, has been added after the jump.
Voltron: Legendary Defender Trailer
Jacob Hall's original story follows:
My experience with Voltron is limited. As I've written before, I came from a Transformers household and those toys and that series delivered all the necessary giant robot thrills a young boy could possibly hope for. I have nothing against Voltron and its fans – I just know very little about this particular universe and can only operate as helpless outsider.
So when I look at the first official image from Netflix's new series Voltron: Legendary Defender, I see something that looks like Voltron. If there are egregious problems or nits in need of picking, they are not registering for me. That's your job.
This first look was revealed over at USA Today, who also announced that the first 13-episode season of this series will premiere later this year. In keeping with tradition, the episodes will also be 22 minutes long, so you can close your eyes and imagine eight minutes of commercials during each adventure. They also provided this basic synopsis:
Legendary Defender centers on five Earth teenagers — Keith, Lance, Hunk, Pidge and Shiro — who are thrown into the middle of an intergalactic battle and become the last line of defense for Arus and other planets against an evil alien force led by King Zarkon.
While Voltron: Legendary Defender will be its own thing – the article notes that DreamWorks Animation was allowed to fiddle with the Voltron mythology as much as it wanted – executive producer Lauren Montgomery promises that old school fans looking for a nostalgic thrill will be pleased:
We're trying to keep as much of that classic feel to it as we can, because ultimately we have huge amounts of nostalgia for (the original) show.
And while the article also throws around references to serialization and even makes some comparisons to HBO's Game of Thrones, executive producer Joaquim Dos Santos says that they ultimately embraced something sillier and family friendly after considering some, well, darker options. Just how dark? Well:
...really military and really serious, everything had chainsaws on it and was really bro'd out, and we just didn't want that.
Netflix announced the existence of this series in January and revealed an initial teaser poster a month later, but the image below is our first proper look at the legendary defender of the universe in his latest incarnation. Yep, all five lions are accounted for.
Then again, I'm not the one who should be casting judgment here. What think you, wizened and longterm fans of Voltron?