Comedian Garry Shandling Has Died At 66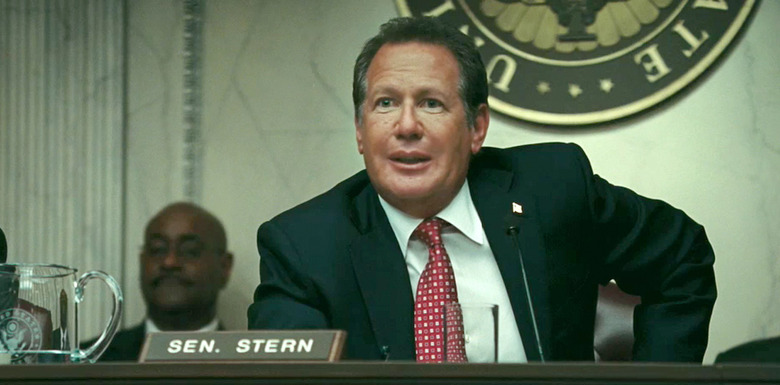 Some sad news comes out of nowhere today as influential comedian and writer Garry Shandling, star of The Larry Sanders Show, has passed away at 66 years old. The Los Angeles Police Department confirmed that Garry Shandling died at a Los Angeles hospital but the exact cause of death has not been revealed at this time, though it is known he had some sort of medical emergency today which led to his death.
We remember the work of Garry Shandling below.
Upon first glance at Garry Shandling's resume, he doesn't seem to have an expansive amount of work. He has about 15 film appearances and less than a dozen TV shows under his belt as an actor. However, Garry Shandling has countless appearances as himself (some in those films and TV shows), doing stand-up comedy, appearing on talk shows, presenting and hosting at awards shows and more. And that's because he's a comedy legend who made major waves in the business of laughs, influencing a lot of comedians we love today.
Shandling began his legacy on television with a faux program in 1986 called The Garry Shandling Show 25th Anniversary Special, a parody of the big anniversary specials that Johnny Carson used to do when he hosted The Tonight Show. And that was just the beginning of his skewering of show business.
From that came his Showtime original series, It's Garry Shandling's Show, one of the cable network's earliest projects, which ran until 1990, earning four Emmy nominations while it was on. It was breaking the fourth wall and talking to the audience long before The Office or Parks and Recreation popularized the narrative format. Beyond that, the show was even more meta, with Shandling playing a version of himself who was aware that he was a sitcom character.
After that, Shandling found success with another innovative program called The Larry Sanders Show on HBO, which followed the behind-the-scenes happenings of a fictional late night talk show, allowing for countless cameos and entertainment industry hilarity. This has been regarded as Shandling's finest work, earning him 18 Emmy nominations and one win for the series finale. This show specifically has undoubtedly influenced many of the comedic minds who are at the top of their game today.
Without The Larry Sanders Show or It's the Garry Shandling Show, we might never have had Curb Your Enthusiasm, The Office, Extras, and countless other shows that took cues from Shandling's work with both Alan Zweibel and Dennis Klein. Comedian Ricky Gervais has cited Shandling as a major influence on his work, going so far as to interview him for his short-lived Channel 4 show Ricky Gervais Meets..., though some think it didn't go very well since the show ended after this episode:
However, there's a lot of discussion online about whether or not Shandling and Gervais really had an awkward interview or if they were both just playing it up for comedy's sake. Knowing how each comedian likes to operate, it could go either way. You can watch all five parts of the interview on YouTube to see for yourself.
We don't know if Shandling was dealing with any serious illness before his death, but he was just recently spotted hanging out with fellow comedians Kathy Griffin and Bob Odenkirk on Twitter:
So @GarryShandling & I had to call Saul @mrBobOdenkirk pic.twitter.com/DcLhvfvaJZ

— Kathy Griffin (@kathygriffin) March 21, 2016
More recently, fans saw him popping up in the Marvel cinematic universe as Senator Stern, who gave Tony Stark some trouble in Iron Man 2 and was revealed to be corrupt and working with Hydra in Captain America: The Winter Soldier. Other notable film appearances include Zoolander, Over the Hedge, Mixed Nuts, and his own movie What Planet Are You From?, directed by Mike Nichols.
Perhaps all you need to know about Garry Shandling is that he was once offered $5 million to take over Late Night once David Letterman headed over to ABC to host The Late Show, but he turned it down. And he also turned down The Late Late Show so he could do his own work on The Larry Sanders Show. Anyone who truly gets what Garry Shandling was trying to do in comedy knows that those places were not for him, and the legacy he left behind is representative of his comedic genius. He will be missed.
[Additional source: Variety]