Theme Park Bits: 'Skull Island: Reign Of Kong' Details, 'The Walking Dead' Comes To Universal Studios, First Tease Of The 'Frozen' Stage Musical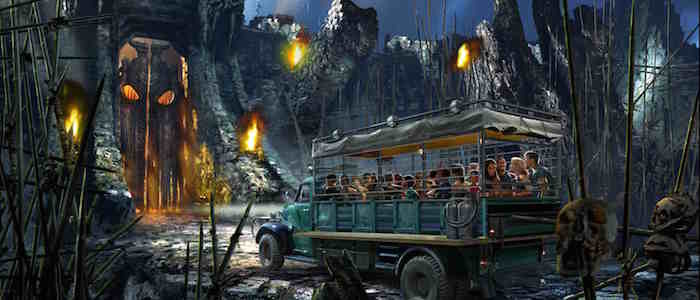 If your love of movies and your love of theme parks overlap, then Theme Park Bits is the news round-up for you. In today's edition:
Universal Studios reveals a whole bunch of new Skull Island: Reign of Kong details.
A behind-the-scenes look at California Adventure's new Frozen show.
Universal Studios raises their ticket prices, just in time for The Wizarding World of Harry Potter.
The Walking Dead is getting a permanent home at Universal Studios Hollywood.
The Matterhorn Bobsleds at Disneyland just got a bit more comfy.
Disney's Hollywood Studios has carved out a new area for the Muppets.
Universal Studios has always been about speed. While Disney Imagineers hem and haw for years over the tiniest details, Universal's creative team knows how to strike when the iron is hot, getting new attractions up and running with astonishing efficiency. The latest attraction to come together with such astonishing quickness is Skull Island: Reign of Kong, which is set to open at the Islands of Adventure park in Orlando, Florida sometime this year.
Now, a new post at the official Universal Orlando blog has revealed some very cool details about the ride vehicle. The will expedition truck that will take riders deep into the dangerous jungles of Skull Island will "measure over 40 feet long and 13 feet high, weighs in at 17 tons and carries up to 72 people." But more importantly, it will be the first "trackless" attraction in Universal history. Trackless rides are still uncommon in American theme parks (overseas Disney parks have used this tech for some time now), so this will a truly next generation experience.
The post also notes that each ride vehicle will be "driven" by one of five characters:
Becky Callahan: The loose-cannon cowgirl who isn't fazed by the dangers awaiting her on Skull Island.
Will Denham: The fresh-faced, adventure-seeking nephew of famed movie director Carl Denham.
Jinks Costanza: A hardened New York City ex-con who is wary of the island's mysteries.
Kalana: A mystical descendent of the natives who first settled on the island.
Charles "Doc" Jordan: A PhD student in paleontology who took time off from his studies to explore the world.
These characters can't be seen in the video above (and the chances of them being live actors are very unlikely), so it looks like each vehicle will come equipped with either an animatronic driver or a digital projection of a driver. Universal has been testing the vehicles for a the past week or so, but looking at footage of the tests won't offer any hints – the front windows have been covered up to keep prying eyes away.
But if anything, this suggests animatronics. If there are life-size robots in this trucks, Universal is not ready for us to see them.
Universal also revealed this video showcasing some of the monsters that will menace riders during their experience, which range from dinosaurs to giant bugs to Kong himself. While the ride doesn't have a direct connection to Peter Jackson's 2005 King Kong, these designs look they could have easily come straight out of that film. Which is fine! Jackson's monsters look terrific. The final ride will feature a blend of projected monsters and practical animatronics, so don't think that the footage on display here is any way final. There's still a ton of work to be done.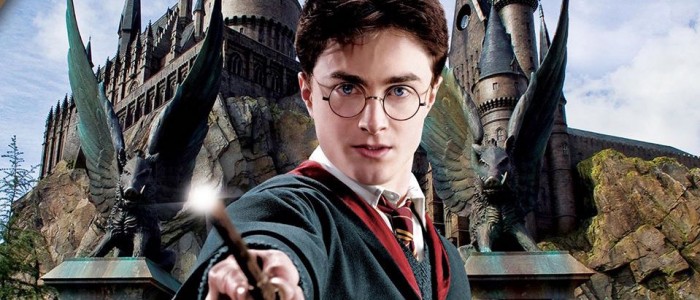 With The Wizarding World of Harry Potter set to open at Universal Studios Hollywood very soon, the park has done what any theme park would do when a glut of new visitors are promised: raised its admissions prices. The LA Times reports that ticket costs have gone up 20%, making the park officially more expensive than its East Coast cousin in Orlando. The price hike comes as Universal has joined Disney parks in instituting a new tiered price system – the busier a day, the more a ticket will cost. Visiting Universal Hollywood during peak times will now require to you throw down $115. Naturally, theme park fans aren't taking any of this well (and you can't blame them), but you know it won't keep the crowds from paying a visit to the park's new Harry Potter attractions.
But Harry Potter isn't the only massively popular franchise getting a new home at Universal Hollywood. At WonderCon, Universal revealed that a permanent attraction based on AMC's The Walking Dead is heading the park, giving visitors a chance to tangle with zombies year-round. The series has been a staple at the park's annual Halloween Horror Nights, but the walkthrough mazes were always temporary and were taken down as October become November. IGN has the details:
Williams said that when recreating notable areas from the show, compared to the Horror Nights mazes, they were going for, "Bigger and broader sets and more high end sets," saying they were, "taking the level of sets and the scenic tricks and taking them to a higher level."
While the Horror Nights mazes were often built inside a tent, for the permanent attraction, Burgess noted, "Universal is building us a building" and "the team has been very careful to use every inch" as far as filling everything in sight with something of significance to the show. Beyond the more obvious recreations of set pieces from the show, Murdy promised Easter Eggs throughout, with references to locations and moments from The Walking Dead's history.
As someone who thinks that haunted houses and mazes should be staples at more theme parks outside of Halloween, I approve. I also approve of how the creators brag about pushing the limits of what's acceptable in a them park in terms of violence and gore. Because if you're going to do The Walking Dead, you might as well go all out.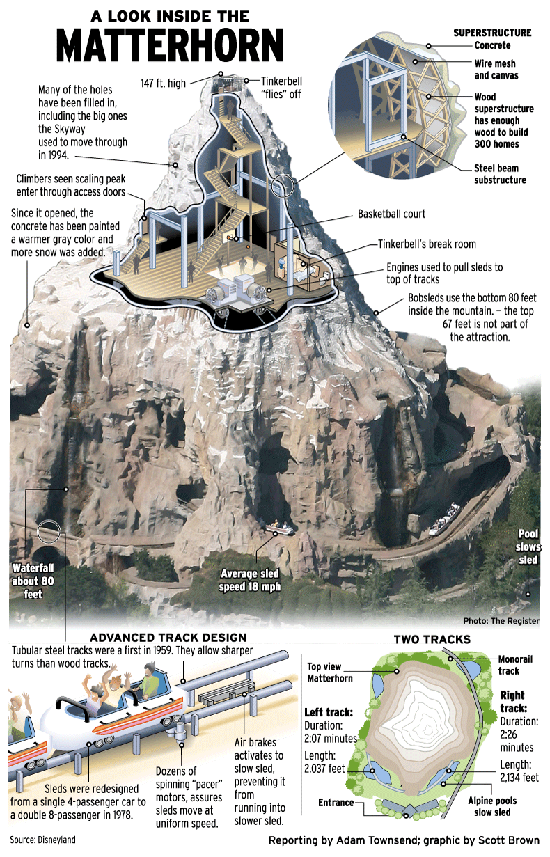 The Matterhorn Bobsleds attractions was first built in 1959 and it was the first tubular steel roller coaster ever built. And while the Disneyland staple is undeniably a classic, it's rougher than most modern coasters. A major refurbishment in 2012, which replaced the ride vehicles with a modern design, only exacerbated the issues and many riders complained that the once-bumpy ride was now just painful. Well, Disney has heard the complaints: cushions have been added to the seats, which should hopefully make things a little smoother.
In retrospect, it was inevitable. Last year, it was revealed that a stage version of Frozen would replace the beloved Aladdin: A Musical Spectacular at the Hyperion Theater in Disney's California Adventure Theme Park. Fans weren't happy, but hey, Disney knows where the money comes from and where it will continue to come from for the next decade-plus. This was just a canny move from a corporation that's wilier than most. Anyway, they've released a brief featurette that contains some footage of rehearsals from the new show as well as comments from the the director. You don't get to hear "Let It Go" or "Do You Want to Build a Snowman," but you do get to see a bunch of actors testing out their dance routines on a bare stage.
In the meantime, Aladdin will live on indefinitely in YouTube videos.
You probably shouldn't go to Disney's Hollywood Studios theme park in Orlando for the next few years. As the park undergoes massive amounts of construction to prepare for new areas dedicated to Star Wars and Pixar, massive swaths of the park will be closed and a shocking number of rides and attractions will be torn down. It's a bloodbath. A bloodbath that will surely result in some pretty amazing stuff, but a bloodbath nonetheless.
Anyway, the news today is that the Mama Melrose's restaurant and the well-liked (if not always well-attended) MuppetVision 3D have officially dodged the wrecking ball. As everything else around them falls, they will stand...and will form the basis for a new area that will be named Muppet's Courtyard. Meanwhile, the Pizza Planet restaurant (arguably one of the worst places to eat on Disney property) is currently undergoing renovations and will supposedly open as a Muppet-themed dining establishment of some kind. Early rumors have indicated a "Swedish Chef Cooking School" theme, but that remains unconfirmed.