Guillermo Del Toro Casts Michael Stuhlbarg In His Next Movie, Which Is Just The Best News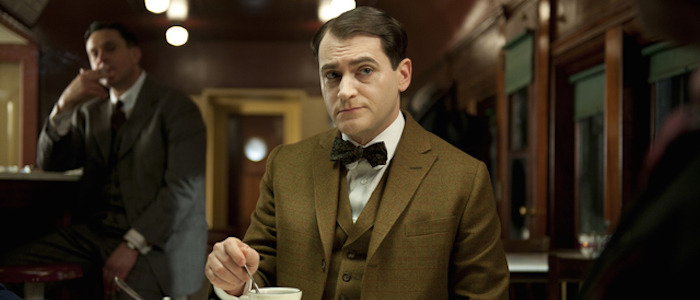 If you backed me into a corner and demanded to know who I think is the finest actor alive today, I'd say Michael Stuhlbarg. Actually, you don't even have to back me into a corner and you don't have to make any demands. I'll just say it: Michael Stuhlbarg is our finest working actor. He's played gangsters and professors and aliens and tech geeks and film historians and old-timey congressmen and he's vanished into each and every role. You will never catch him telling a lie on camera.
Every Michael Stuhlbarg role is a reason to cheer. But Michael Stuhlbarg signing up for the next film from Guillermo del Toro? That's a reason to throw a party.
It's been an interesting few months for del Toro. The masterful director officially exited the sequel to Pacific Rim and flirted with an adaptation of Scary Stories to Tell in the Dark before revealing that he's officially getting ready to shoot an untitled Cold War film. More specifically, the project is "a mysterious and magical journey set against the backdrop of Cold War-era America circa 1963 with an otherworldly love story at the center of it."
Variety reported the news of Stuhlbarg's casting. He joins a cast that already includes Octavia Spencer and Sally Hawkins, which officially makes this one helluva line-up. You could watch those three read the phone book and be entertained.
Although story details are under wraps, del Toro has often set his fantastical stories against period backdrops and real-life events. The Devil's Backbone and Pan's Labyrinth are directly tied to the Spanish Civil War, allowing the supernatural elements at the forefront of the story to comment on actual history. Even the hugely underrated Crimson Peak made tremendous use of its late 19th century setting. If del Toro is making a movie set during the Cold War, then you know he has a good reason.
Stuhlbarg had a busy 2015, lending his talents to Trumbo, Steve Jobs, Miles Ahead, and even an episode of Transparent. Previously, he starred as Arnold Rothstein on the late, great Boardwalk Empire and stole scenes in Hugo, Hitchcock, Blue Jasmine, Lincoln, and Seven Psychopaths. His work in A Serious Man is one of the finest performances of the past decade. His work in Men in Black 3 may be the all-time best example of an incredible performance in an otherwise middling movie. He'll be seen next in Marve's Doctor Strange and Denis Villeneuve's Story of Your Life.
Meanwhile, del Toro will begin filming this mysterious new movie in August. I can't wait to learn more about this project. After all, the ingredients for something special are present.