The 'Legends Of The Hidden Temple' TV Movie Casts Original Host Kirk Fogg Because Why Not?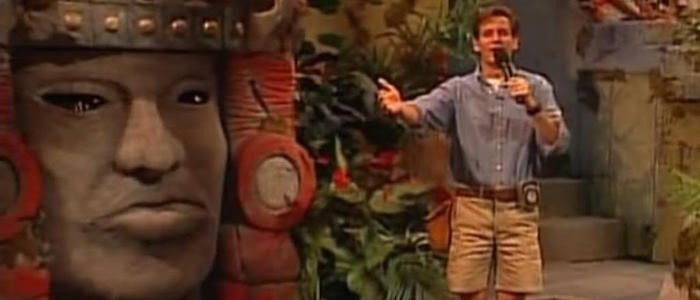 A few weeks ago, we learned that Nickelodeon is reviving Legends of the Hidden Temple as a TV movie and '90s nostalgia began to flare up all over the internet. Grown men and women – sitting in cubicles, inching through rush hour, preparing for important dates, attending secret sex parties in secluded mansions – all paused whatever they were doing as they flashed back to a simpler time. A time when watching children endure physically punishing and humiliating tasks so they could maybe, possibly, get the chance to have the crap scared out of them by men dressed as "temple guards" made for compelling television.
Now, all of those '90s kids better steady themselves again because Kirk Fogg, the original host of the show, has been cast in the new movie. Because apparently continuity matters in the Legends of the Hidden Temple cinematic universe.
Fogg joins a cast that already includes Isabela Moner, Colin Critchley and Jet Jurgensmeyer, but the details of his role in the movie remain unknown. However, the official announcement suggests that his character will pay homage to his work on the original show, which means he'll probably get to dump a bunch of exposition about secret treasures and look on as kids fight back tears as they struggle through the Shrine of the Silver Monkey.
Here is Fogg's official statement on joining the project:
When Nickelodeon asked me to be a part of the Legends of the Hidden Temple movie, I immediately went to the closet and pulled out my blue denim shirt, which has been protected by a powerful golden force field since 1995. Legends is truly a legend, and I'm honored to be a part of it again. I'm sure the Ancient Olmec had something to do with this; that rock head is pretty sneaky.
The movie will borrow the iconography of the original game show to tell a more straightforward adventure tale. The story "follows three siblings who break away from a lackluster tour in a jungle, finding themselves immersed in a high-stakes adventure comprised of obstacles that they must complete in order to escape alive." Naturally, familiar characters and locations, like Olmec the talking stone head and those damn Steps of Knowledge, will play a role.
It's hard to call Legends of the Hidden Temple a good show, but for people who were kids at a specific time and place (including yours truly), it was a blast. Fogg was an amiable enough host and the fact that most of the kids who made it to the final challenges failed miserably helped prepare a generation for future disappointment and misery. Thanks, Nickelodeon!
And what has Fogg been up to for the past few decades, besides keeping that blue denim shirt nice and pristine? In addition to starring in hundreds of commercials, he tried his hand at writing, directing, and starring in a low-budget thriller called Distortion. It...doesn't look good. But hey, give the man props for trying.
Legends of the Hidden Temple, which is written by Jonny Umansky, Zach Hyatt, and Alex Reid and directed by Joe Mendendez, is set to air later this year.