Chris Pratt Takes You On A 'Guardians Of The Galaxy Vol. 2' Set Tour – You Know, For Charity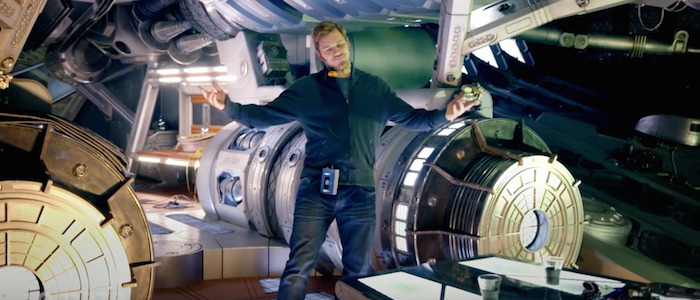 Guardians of the Galaxy Vol. 2 has been quietly filming for some time now, with only the occasional Sylvester Stallone sighting reminding us that the next adventure of Marvel's motley band of space scoundrels is only a year and change away. But now, we have our first proper and official report straight from the set. Heck, straight from Star-Lord himself. A new video featuring Chris Pratt has arrived online, in which the always-endearing actor takes us on a tour of the film's set.
But there's an ulterior motive here: charity. Yep, Guardians of the Galaxy Vol. 2 is the latest major movie to ask fans to open their wallets for a good cause in exchange for swag and, for one lucky winner, a chance to come visit the set of the film.
Pratt has teamed up with Omaze, the "online cause marketplace that is revolutionizing the philanthropic space by giving people the chance to win once-in-a-lifetime experiences that also support social missions," to help raise money for the Lake Stevens Boys and Girls Club, which wants to build a new community center in Lake Stevens, Washington (Pratt's hometown). A donation of ten measly dollars will enter you in a contest where the lucky winner gets to visit the Guardians of the Galaxy Vol. 2 set in Atlanta, Georgia, stay at a fancy hotel, and have lunch with Mr. Pratt himself. Larger donations will earn donors all kinds of cool stuff, ranging from t-s***s and hats to autographed props and mixtapes.
And, of course, this good cause is announced with a very funny video, which features Pratt just being a goofball around the set. There's not much in the way Easter eggs or grand revelations here, but it's still a ton of fun.
Guardians of the Galaxy Vol. 2 is one of several major film productions to team up with Omaze in the past few years. Star Wars: The Force Awakens really got the ball rolling by offering fans a chance to visit the set while raising money for UNICEF's Innovation Labs. Star Trek Beyond created a very similar campaign, raising cash for a wide variety of organizations.You can visit the Guardians of the Galaxy Vol. 2 Omaze page for yourself if you'd like to toss some money at a good cause and collect some cool souvenirs. If you manage to win the grand prize, maybe you can corner writer/director James Gunn and ask him why the team is being attacked by bunch of Manta Rays in this storyboard image:
Guardians of the Galaxy Vol. 2 will open on May 5, 2017.