Harrison Ford Doesn't Rule Out Return Of Han Solo, But He's Probably Just Messing With Us, Right?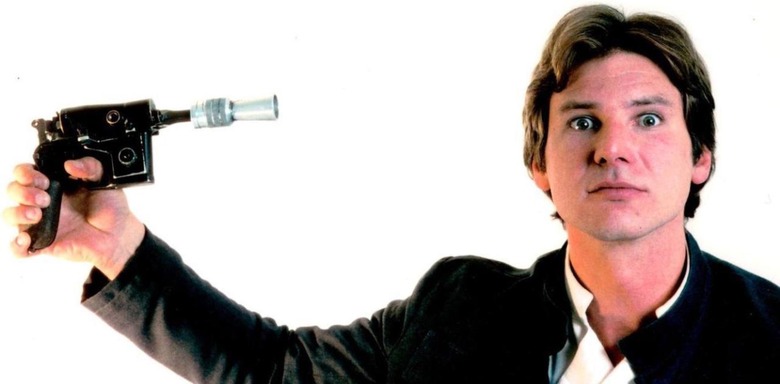 While Harrison Ford has been hopping around to various talk shows and radio programs lately to help promote the forthcoming home video arrival of Star Wars: The Force Awakens, he doesn't seem to be quite as annoyed as he used to be with talking about his most iconic characters, Han Solo and Indiana Jones. The latter was just confirmed to return in 2019 with Steven Spielberg back behind the camera, but what about the future of Han Solo? Will we see Harrison Ford back as the smuggler sometime in the future? The actor certainly isn't ruling it out.
Find out what Harrison Ford said about Han Solo returning to Star Wars after the jump, but beware of spoilers.
Everyone who cares about Star Wars has probably seen The Force Awakens by now, so it should be no secret that Han Solo dies at the hands of Kylo Ren (Adam Driver), who just happens to be his son, Ben Solo. Ford recently talked about killing off Han Solo on Jimmy Kimmel and he hinted that his fate may not necessarily be sealed as Han Solo. Now a new interview with the BBC has him actually teasing the possibility of a comeback.
First, here's what Ford had to say about finally killing off Han Solo, something that he's wanted to see happen since Return of the Jedi:
I wanted Han Solo to sacrifice himself for the good of the other characters to bring some gravitas to the story... I was very pleased to have the opportunity to work with the other characters, to work on a script that I had real confidence in, with actors that were a dream to work with, with a director that had a very sure and generous hand, and it was altogether a pleasure.
Now here's the juicy tidbit we were talking about when Ford was asked if he might return as Han Solo in the future:
Anything's possible in space, and in the movies.
Obviously he's just messing with us, right? There's no way that The Force Awakens would give Han Solo this meaningful death only to bring him back to life sometime later. After all, Harrison Ford is happy to be done with the character, no matter how satisfying it was playing him this last time. This just seems like a playful remark to keep the fans speculating and theorizing about the return of Han Solo, which is bound to drive some of them crazy. Then again, there are always flashback sequences and spinoff films to consider...