Shane Black Wants Dwayne Johnson For His 'Doc Savage' Movie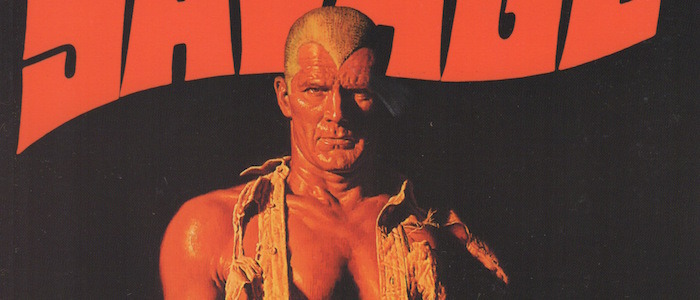 Shane Black has been trying to make a Doc Savage movie for a long, long time. He wrote the original screenplay in 2009 and jumped in the director's chair in 2010 and then...not much happened, aside from the usual on-again, off-again shenanigans. But this is obviously a passion project for the director of Kiss Kiss, Bang Bang and Iron Man 3 – many filmmakers would have just turned and fled from a project that has been gestating for this long, but he appears to be all in.
And now, Black has offered an update on this movie: he's hoping to start filming next year and he wants Dwayne Johnson to star as the legendary pulp icon.
Thrillist interviewed Black shortly after the new trailer for The Nice Guys, his noir comedy starring Russell Crowe and Ryan Gosling, arrived online. The interview covers the many plates Black is currently spinning (including the reboot of Predator he just finished writing with Fred Dekker) and the stuff he's not involved with at all (the upcoming Lethal Weapon TV series), but this little nugget is why we've gathered you here today:
Doc Savage is sort of in the ether now. We're hoping to make it sometime next year. I would very much like to do Doc with a fellow named Dwayne Johnson if we can make that work. I made a decision that Dwayne is the guy. It's on the back burner while he's busy.
For those who are unfamiliar with the character, Clark "Doc" Savage Jr. is one of the great pulp icons of the '30s and '40s, whose various adventures and exploits eventually spilled out of his own magazine and into comic books, novels, and radio plays. He's very much a relic of another age, a near-perfect hero who makes Superman look lazy. He's a scientist, explorer, and physician, capable of inventing wild gadgets and punching his way out of any tight spots. Known as "the man of bronze," he's a musclebound martial artist and a literal genius. His sprawling cast of allies can't help but feel redundant.
Chris Hemsworth was previously rumored to be the top choice for this part, but Johnson feels like the better choice. After all, The Rock already looks like he walked straight out of a pulp magazine cover and into our reality. Plus, his genial sense of humor and inherent onscreen cockiness will complement Doc Savage's absurd skill set. If we're going to believe that a single human being can do everything Savage can, you need to cast the closest thing the world has to a real superhero.
But as Black himself notes, Johnson's schedule is currently jam-packed. He's filming Baywatch, but he's already lined Rampage, Fast 8, and San Andreas 2. The man never stops working. Black simply needs to find a hole in his schedule.