'Annabelle 2' Finds A Director In 'Lights Out' Director David Sandberg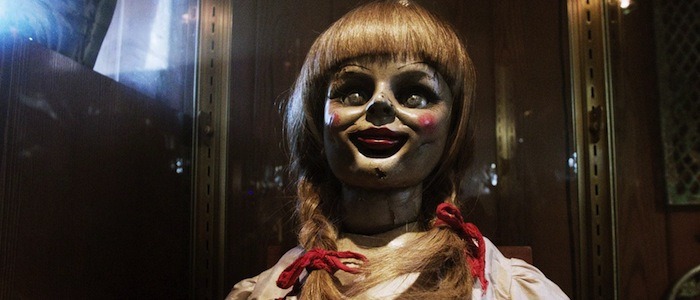 As one of the people who unapologetically enjoyed 2014's Annabelle, I welcomed the news of a sequel with open arms. The original film is stylish, spooky, and yes, occasionally silly. It was a ton of fun and I stand by that assessment, Rotten Tomatoes score be damned! Yesterday, Warner Bros. announced that Annabelle 2 will hit theaters on May 19, 2017 and today, it's been revealed that director David F. Sandberg has been recruited to helm the sequel.
The news of Sandberg's hiring comes to us from Variety, but additional news about this project remains closely guarded. We know that Gary Dauberman, who penned the first film, wrote the screenplay, but it's not clear if the titular evil doll will once again menace Annabelle Wallis or if she'll move on and traumatize another batch of actors.
The Annabelle series is, of course, a spin-off from The Conjuring, taking one of Ed and Lorraine Warren's more memorable past encounters and giving it some nutty backstory. The Conjuring took place in 1971 and featured the Annabelle doll under lock and key, but the first Annabelle movie took place in 1969. In other words, this evil thing has two years' worth of nasty adventures left before it's put away for good.
Sandberg has shown horror chops before. His short film Lights Out is less than three minutes long and hugely effective. The concept is simple: a woman is terrorized by a monster that can only be seen when the lights are off. Sandberg is currently directing a feature version of this short, which is due out in theaters on July 22, 2016. Since The Conjuring director and Annabelle producer James Wan has a hand in Lights Out, there's a definite possibility that he was impressed by what he's seen of this new film and has decided to keep Sandberg in the family.
But that's just speculation. There's a lot of promise on display here, so we should just keep our fingers crossed and see how Lights Out turns out before we get too excited for Annabelle 2.
UPDATE: A previous version of this post wrongfully reported that David F. Sandberg directed the short film Kung Fury. However, Kung Fury was directed by a different David Sandberg (no middle initial), hence the confusion. /Film regrets the error.