'Game Of Thrones' Producers Tease Their Best Season And The Biggest TV Battle Ever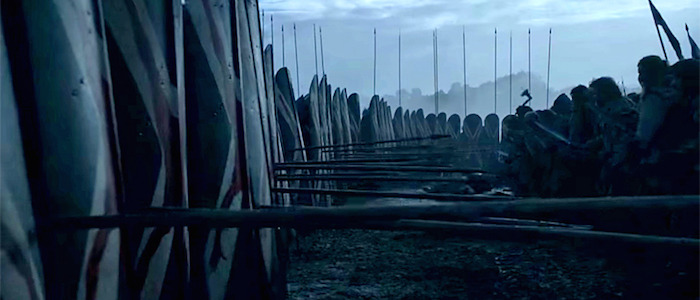 Think back to the first season of Game of Thrones, when a handful of combatants fighting on a mountain pass was a big action scene and Tyrion Lannister was knocked unconscious just so the show could avoid showing a giant battle it couldn't afford to film. How things have changed for HBO's flagship series, which has grow increasingly epic and ambitious with each passing season. It seemingly peaked last year, when Jon Snow led a desperate army of men and women against a larger army of zombies.
But according to producers of the show, we haven't seen anything yet. In fact, they're promising an even bigger battle and the best season of the show yet.
Look, it's hardly news when someone involved in something expensive says "I promise this will be really great!" However, 
sat down with showrunners David Benioff and Dan Weiss and they seem awfully proud of what they pulled off this time around. Here's Benioff, speaking at length about how Game of Thrones season 6 is their strongest outing yet:
The whole season. Dan and I talk about this a lot. This is not us trying to hype it. Usually there's an episode or two we're kind of nervous about, that didn't turn out as well as we hoped. This season there is not a weak episode. We had great directors who knew what they were doing, paired with excellent [directors of photography]. We thought at the script stage it might be our strongest season. Then the episodes came in better than we hoped. We're always reluctant to say it's 'the best season yet' because so much of that is in the eyes of the beholder. And Dan and I are so close to it that it's impossible to be unbiased. But that's my sense – watching them all together now, this is the best one we've done. It's also the one I'm proudest of, because it was the hardest.
Considering that season 5 was the show's weakest season so far (which meant it was just good instead of excellent), it makes sense that Benioff and Weiss would want to start saying nice things about their work a month in advance. Hey, as long as they
address the elephant in the room
, I'm still on board. Who am I kidding? I'd be on board no matter what. I'm with this show until the bloody end.
In a separate article, Entertainment Weekly
revealed a few precious details
about this season's big battle, which writer/producer Bryan Cogman says will be the biggest conflict the show has depicted yet:
It's definitely the biggest [action sequence yet]. We've always wanted to get to a place – story-wise and budget-wise and time-wise and resource-wise – where we would be able to do a proper battle, with one army on one side, one army on another side.
Unlike the high concept sieges and conflicts of past seasons, this will apparently be a far more traditional battle: two giant groups meet in a field and pummel each other with hammers and stab each other with swords and so on. There will be horses involved. Perhaps most importantly, director Miguel Sapochnik, who helmed last season's gripping and terrifying "Hardhome," was put in charge of this particular episode.
Since the show has officially gone beyond George R.R. Martin's books, I cannot say for certain who will be involved in this big battle. However, the
teased a giant conflict (with horses!) that seemed to be taking place in the North or the Riverlands. And in
my spoiler-y breakdown of the preview
, I make a few guesses about who is fighting who.
For more details on this big battle, make sure you hit the link above. Game of Thrones season 6 is set to premiere on April 24, 2016.