Star Wars Bits: New Star Wars Land Rumors, A Great Mark Hamill Q&A, And 'Star Wars' Goes VR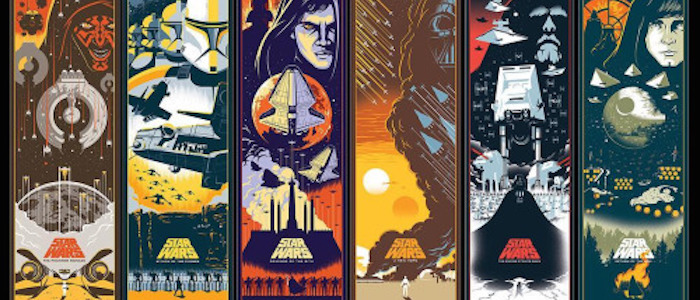 Welcome to today's especially jam-packed edition of Star Wars Bits, which features the following:
Star Wars actor Drewe Henley has passed away.
Mark Hamill engages (and teases) fans in a long and fascinating Q&A.
Marvel's Poe Dameron comic is already doing quite well.
New Star Wars Land details/rumors emerge.
The Star Wars saga goes VR with Trials on Tatooine.
The ridiculous Darth Vader toothpick dispenser you'll want to own.
A description of the next big Star Wars novel.
Footage from the latest Star Wars: Battlefront DLC.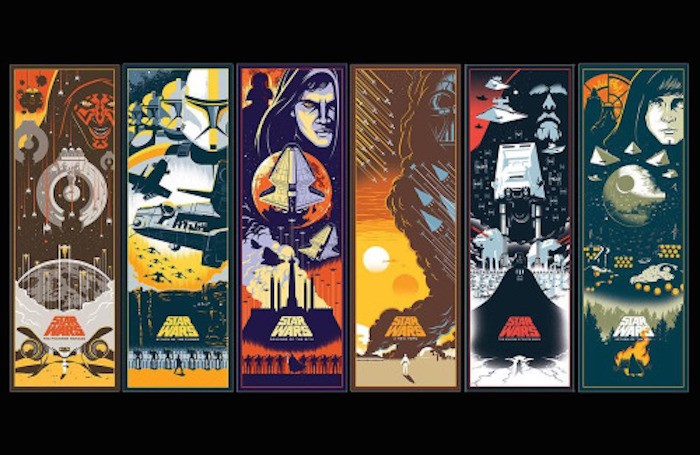 A few years ago, artist Eric Tan created a series of posters for the two Star Wars trilogies and the results were stunning. He recently re-shared his work on his Tumblr, placing the entire series side-by-side so you can fully appreciate how each design echoes the others. The internet is full of great Star Wars art, but these belong in the upper tier. Top 1%? I'd say so.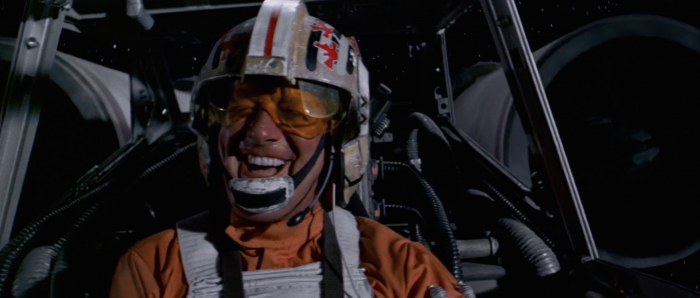 Actor Drewe Henley, best known for playing "Red Leader" in the original 1977 Star Wars, has passed away at the age of 75. Although Henley worked steadily through the '60s and '70s, appearing mostly on British television, his role in this science fiction classic was one of his last performances before he retired. He spent his final years running a bed and breakfast with his wife. He may have played a minor role in Star Wars, but every piece of the saga is important in its own unique way. He will be missed.
Mark Hamill's full Q&A at the Oxford Union has appeared online, which means you can now parse through his comments about Rey's parentage and examine his facial tics for any subtle clues! In all seriousness, it's a fun discussion. Hamill is an interesting guy and he drops a few tidbits of information about the production of The Force Awakens and Episode 8. Still, the big thing here is still him accidentally referring to Daisy Ridley/Rey as his daughter. Whether this is an accidental spoiler or just him referring to the general vibe of their offscreen relationship remains up in the air.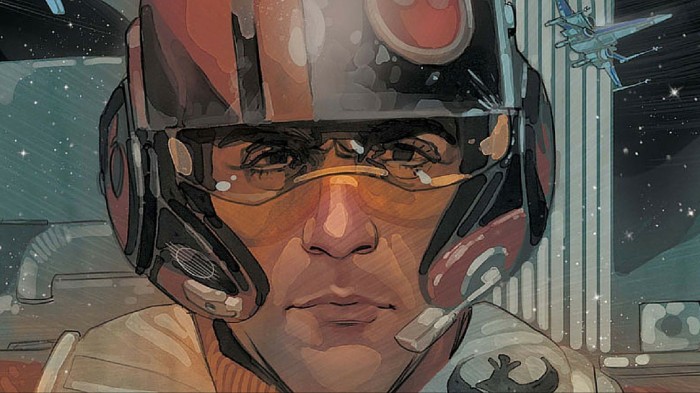 Marvel has announced that the first issue of the upcoming Poe Dameron comic book miniseries has reached 200,000 pre-orders...which is huge. To put that in perspective, a successful comic book these days generally moves about 50,000 copies a month. To be fair, it's unlikely that Poe Dameron's series will continue to sell 200,000 copies a month (that would be astro-freaking-nominal), but that's one heck of a start.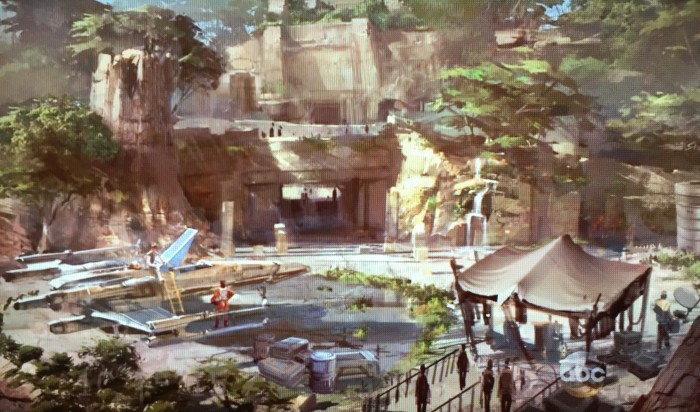 Making Star Wars has compiled a bunch of rumors concerning Disneyland's upcoming Star Wars Land and it all sounds pretty amazing. Maybe a little too amazing (expectations need to be kept in check here), but the chance to actually get drunk in an alien cantina sounds like a dream come true. Here's what they're reporting:
Word is there might be some kind of big deal event for the construction of Star Wars Land ground-breaking like they did for Avatar.
A behind the scenes feature for the Star Wars Launch Bay has been put together for Rogue One: A Star Wars Story.
The Marvel area above the Star Wars Launch Bay is being removed and the rumor is it may house a Star Wars Land preview area of some kind and additional Star Wars content.
Right now the plan is for the cantina in Star Wars Land to serve alcohol, which is a big deal in the Disneyland park.
You won't be able to see any visual elements of the Star Wars area until you enter so it's complete immersion. You'll exit Critter Country and enter a narrow tunnel, coming out of it seeing massive buildings and X-Wings setting a dazzling tone.
A complicated laser system is in place that will allow them to project things into the sky that look like ships from the Star Wars galaxy.
It's not clear if virtual reality is the real next step forward for entertainment or the next cool fad, but this video showing off the work of ILMxLab is certainly stunning. As you can see, a future where you can explore the Star Wars universe through a VR headset is right around the corner. Here's how ILMxLab is described:
Launched in 2015, ILMxLAB brings together the talent from Industrial Light & Magic, Skywalker Sound, Lucasfilm's Advanced Development Group and the Lucasfilm Story Group to create story-driven immersive entertainment including virtual reality and mixed/augmented reality experiences.
And here's the trailer for the game they're working on, Star Wars: Trials On Tatooine: A Cinematic Virtual Reality Experiment. In other words, this thing is very much a prototype. But it's also canon! Co-written by the Lucasfilm story group's own Pablo Hidalgo, the game is set after Return of the Jedi and allows you to play as a young Padawan who is sent to Tatooine to train. Because all Jedi Knights apparently pass through Tatooine at one point or another (I kid because I love). There's not much to go on in this trailer, but it definitely looks like it could be an immersive and impressive experience.
But here's the big question: how soon can you play this? With the HTC Vive due out on April 5, 2016, Engadget suggests that early adopters of VR technology may be playing this thing very soon...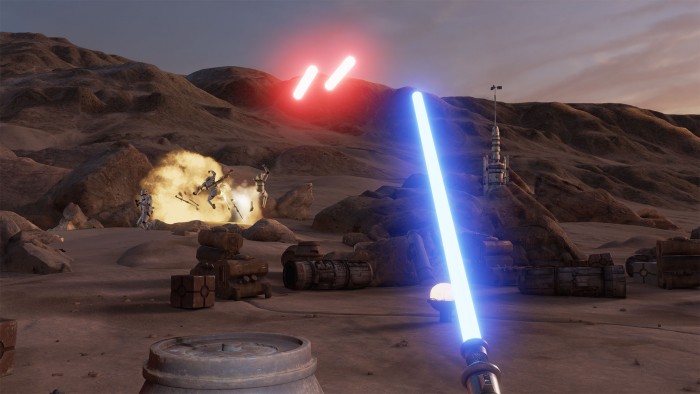 If you want to know more, StarWars.com has posted a very good interview with Rob Bredow, Lucasfilm's chief technology officer, where he discusses Trials on Tatooine and what gamers can expect from the experience. Here's a sample:
In some ways, at ILMxLAB we feel like we are breaking new ground with every immersive project we start right now. In the case of Trials on Tatooine, we started by testing what it would feel like to be able to actually stand right below the Millennium Falcon as it's coming in for a landing nearly on your head. In addition to working with some of the best artists and engineers in the world, we are all Star Wars fans and wanted to stand underneath our favorite ship. We began with the actual model ILM used on The Force Awakens and animated it swooping in, and then Skywalker Sound helped design the audio and set us up with a custom surround system with four giant subwoofers. When we put it all together with a state-of-the-art virtual reality system and tried it out, we knew we had the start of an amazing experience.
Meanwhile, gamers who aren't quite ready to make that next big technological leap can rest assured that Star Wars: Battlefront DLC is still on the way. In fact, a new gameplay trailer for "Outer Rim" expansion has arrived online.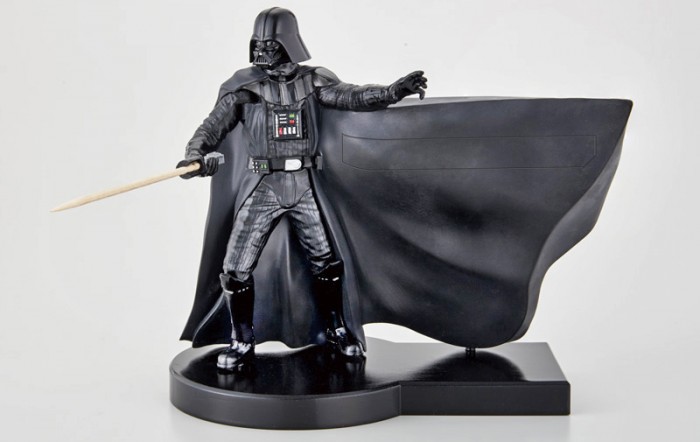 Yes, that is Darth Vader toothpick dispenser. Yes, it really does depict the dark lord of the Sith wielding a toothpick like a lightsaber. No, it is currently not available in the United States, but Japanese fans can pick it up for roughly $26 this June. Yes, you are allowed to start Googling "how to import items from Japan."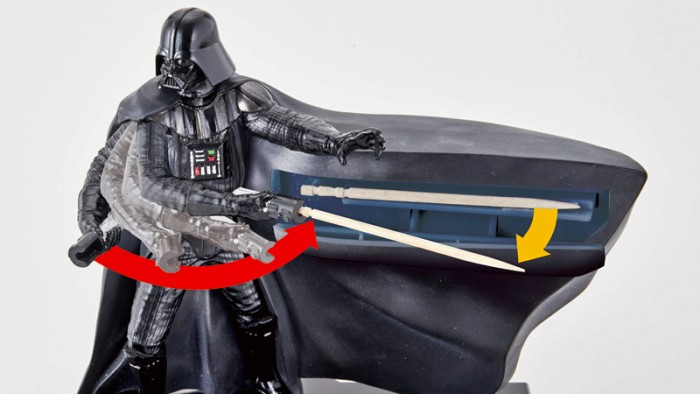 An early plot synopsis for Claudia Grey's upcoming novel Star Wars: Bloodlines has arrived online via Jedi-Bibliotek (and Star Wars News Net) and it certainly sounds like it's going to answer a whole bunch of the questions that Star Wars: The Force Awakens didn't address. How did the New Republic function? What the heck went down between Leia Organa and the new government? Well:
The entire generation has prospered during an era of peace. The New Republic, governed by the Galactic Senate on Hosnian Prime, has held power for more than two decades. The wars that divided the galaxy are fading into legend.
Yet conflict has begun to take shape within the Senate. Two unofficial but powerful factions have formed – the Populists, who believe individual planets should retain almost all authority, and the Centrists, who favor a stronger galactic government and a more powerful military.
As the political gridlock threatens to cripple the fledgling democracy, Centrists leaders have called for the election of a "First Senator". It is their hope that this powerful position will bring order to the divided Senate. But Populists like Senator Leia Organa Solo know all too well the price of such order. Even as the election nears, the divisions between the worlds of the galaxy are growing wider...
Some of this sounds dangerously close to the prequel territory, but there's nothing wrong with a science fiction political thriller as long as you care about the characters and their predicament. Watching Leia navigate a political lions' den could be a ton of fun under the right circumstances...
Speaking with Rolling Stone, "Weird Al" Yankovic revealed that, despite fan demand, he won't be writing any new Star Wars song parodies anytime soon. And while that may bum you out, his explanation for the decision actually makes a lot of practical sense:
It's a thought that crossed my mind, certainly, and everybody on my Twitter feed was like, "Oh! You have to do another Star Wars song." In fact, a few years ago I teased, "You know, I do a Star Wars song every 20 years like clockwork. It could be about that time." But I looked at it practically. I've already got two Star Wars songs in my set, both of which I pretty much have to play because of fan demand. If I had a third Star Wars song, it just sort of becomes the Star Wars show. So for that reason alone, I kind of feel like I probably should just keep it at two.
So for now, fans will just have to be happy with "Yoda" and "The Saga Begins," both of which are fairly top-notch parodies. What? Do you want to risk him ruining his streak?
#chewscript 014 Han Shot First. Period. @starwars pic.twitter.com/4tGOOsRp2l

— Peter Mayhew Foundation (@TheWookieeRoars) March 2, 2016
In case you're curious, Peter Mayhew's original screenplay for Star Wars makes it clear: Han was always supposed to shoot first. Don't believe the lies!