The First 'The Lego Batman Movie' Images Are Here; Trailer Comes Out This Wednesday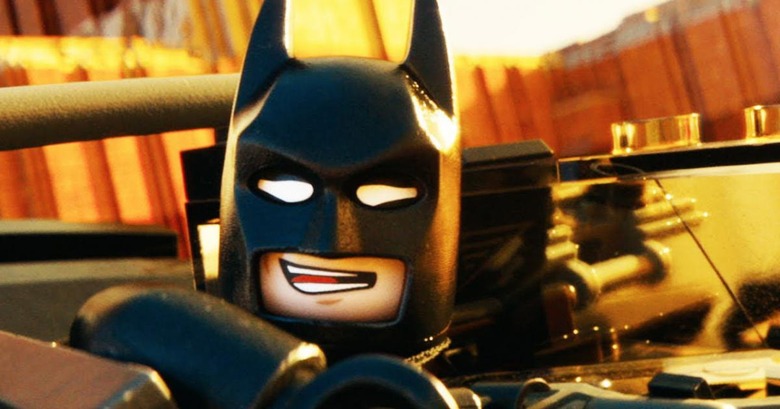 "We're making About a Boy as directed by Michael Mann." If that quote doesn't raise your hopes and dreams for The Lego Batman Movie, then what will? Funnily enough, both Christopher Nolan and The Lego Batman Movie director, Chris McKay, were inspired by Mann's filmography for their Batman films — but obviously we should expect a slightly more comedic spin on the director's crime movies in this instance.
The above quote comes from McKay, who describes this Batman (voiced by Will Arnett) as "an island onto himself." Read what else McKay and Arnett had to say about the film, and check out the first The Lego Batman Movie images, below.
Arnett returns to the role of Batman, following up his voice work as the Caped Crusader in The Lego Movie. This time he's joined by some familiar names, including Alfred Pennyworth (Ralph Fiennes), Batgirl/Barbara Gordon (Rosario Dawson), Robin/Dick Grayson (Michael Cera), The Joker (Zach Galifianakis), and potentially more.
Here are the first few images from The Lego Batman Movie (courtesy of USA Today):
The Lego Batman Movie poses the question: can Batman be happy? The Dark Knight's life of solitude gets turned upside down when he's introduced to Dick Grayson and Barbara Gordon. Despite Bruce Wayne's relationship with his butler, the character is comfortable with his lonely, dark and gritty lifestyle.
Along with the first look at the film, USA Today also got to speak with McKay and Arnett about what to expect. Arnett described The Lego Batman Movie as an opportunity to humanize Batman in animated form:
The Batcave is even better than we remembered it, it's awesome. But I also love getting into the ho-hum day-to-day of being Batman and what it's like to fight crime each day. Like the idea of Batman oversleeping his alarm clock makes me laugh. It really does humanize him.
Chris McKay, who worked on The Lego Movie, realized how popular Lego Batman was shortly following the release of The Lego Movie; he kept having the character's lines quoted back to him. With the first Lego Movie spinoff, McKay wanted to "build a big movie around this character" and make a movie "we would want to see."
The director is currently hard at work on the film in Australia, creating an entire, 3-D Lego Gotham. McKay added they're "going deep into Batman's world," and obviously Superman (Channing Tatum), Green Lantern (Jonah Hill), and Wonder Woman (Cobie Smulders) are a part of Batman's world. The director says there will be an exhaustive amount of cameos, so maybe we'll see those Lego superheroes return for this About a Boy and Michael Mann mashup.
The trailer for The Lego Batman Movie drops online this Wednesday. The animated film opens in theaters February 10th, 2017.