The Russo Brothers Are No Longer Working On A Separate 'Ghostbusters' Spin-Off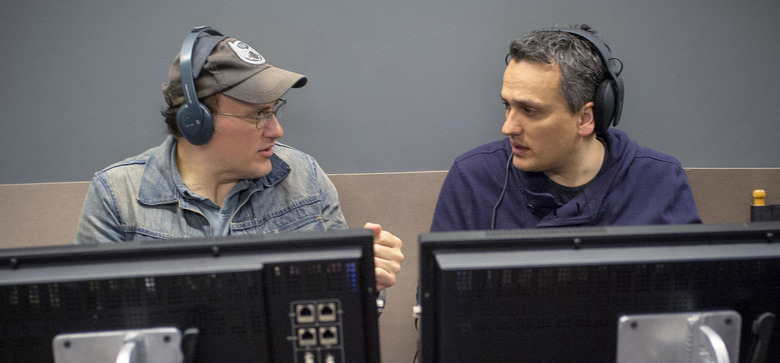 In addition to this summer's forthcoming Ghostbusters reboot from director Paul Feig, the original film's producer and director Ivan Reitman confirmed that there was another film in development that would be scripted by Drew Pearce and directed by Anthony & Joe Russo. Later buzz brought back rumors that Channing Tatum and Chris Pratt may star in the movie. But since then, we haven't heard anything about the Ghostbusters spin-off, but that changes today.
Now that the Russo brothers have taken on both parts of The Avengers: Infinity War for Marvel Studios, the duo is no longer involved with making whatever this new Ghostbusters movie may be. But that doesn't mean it's not still in the cards.
Speaking with Forbes (via Latino Review), here's what Joe Russo had to say about their involvement with a Ghostbusters project at Sony Pictures:
"There was a period there when Paul Feig was engaging Sony in talks about GHOSTBUSTERS and we were also engaging them. He was further along with his process than we were and he closed his deal so that's the only GHOSTBUSTERS world that's being explored right now over at Sony. Once we took AVENGERS: INFINITY WAR it took us off the table for any kind of any potential work on a GHOSTBUSTERS project."
Part of me wonders if that's what the studio is telling Anthony and Joe Russo to say, just so the forthcoming reboot isn't overshadowed by the fact that a Ghostbusters movie with a different cast is one the way. They want this first one to hit the big screen before having the audience think about what else is in store.
The problem with that is the initial news of this Ghostbusters spin-off came from Ivan Reitman himself. Here's what the producer said in March:
"We want to expand the Ghostbusters universe in ways that will include different films, TV shows, merchandise, all things that are part of modern filmed entertainment. This is a branded entertainment, a scary supernatural premise mixed with comedy. Paul Feig's film will be the first version of that, shooting in June to come out in July, 2016. He's got four of the funniest women in the world, and there will be other surprises to come. The second film has a wonderful idea that builds on that. Drew will start writing and the hope is to be ready for the Russo Brothers' next window next summer to shoot, with the movie coming out the following year. It's just the beginning of what I hope will be a lot of wonderful movies."
This is what the Ghost Corps. production banner was created to develop, so we know there's an idea to create more Ghostbusters movies. But for some reason, Reitman decided to contradict himself a few months later in July of 2015, "There is only one new Ghostbusters movie and that is the Paul Feig directed version coming next July, presently filming and going fantastically. The rest is just noise." Yes, noise that was made by Reitman.
We're sure there's another Ghostbusters movie in development, but the studio likely just wants attention to be on Paul Feig's reboot for the time being. But for now, we know that a Russo brothers Ghostbusters flick isn't in the cards.
So who should direct this Ghostbusters spin-off? My vote would go to Phil Lord & Chris Miller, especially since they were previously courted for Ghostbusters 3, but they're already pretty busy, so it's probably not possible. But what about Todd Strauss-Schulson? He just delivered a stellar genre film in the form of The Final Girls, which just so happens to be a Sony Pictures project, so he's already got a good relationship with the studio. Any other ideas?