Kristen Bell Says 'Frozen 2' Begins Production Next Month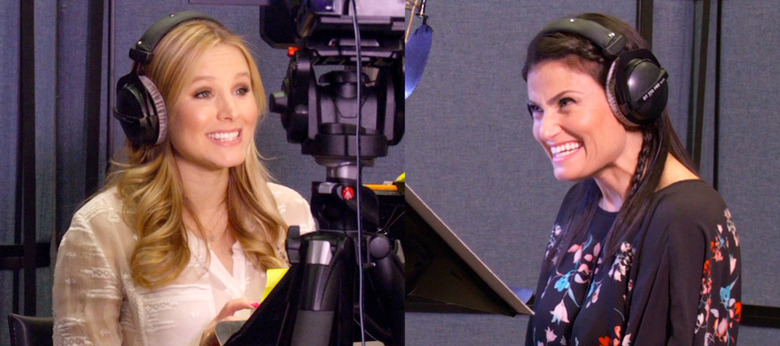 The animated musical Frozen was a massive runaway hit for Walt Disney Animation back in 2013, making a sequel to the movie a forgone conclusion. However, Disney dragged their feet a bit when it came to confirming plans for Frozen 2, and it wasn't until just over a year ago that the project was officially announced. We still don't have a release date for Frozen 2, but the good news is star Kristen Bell has revealed that production is slated to begin next month.
While promoting her latest comedy The Boss with Melissa McCarthy, Kristen Bell spoke to Collider about the status of Frozen 2, and here's what the actress had to say:
"They've just written it and they're still doing tweaks, but I think we should be recording this month. The story is great, and they exude quality. What I know about that whole team is that they wouldn't just put something out to put it out. That's why it took them so long to even announce that we were doing a second one. Generally when you have a first successful movie you want to make a second one. It took them a while because they wanted to figure out what story they needed to tell and what would be important and engaging and I think they found it."
It's definitely for the best that Disney didn't rush writers and directors Chris Buck and Jennifer Lee to immediately churn out a sequel. However, with the exception of the Toy Story film series, animated sequels from Disney rarely capture the magic of the original film. Considering how popular Frozen was, especially the film's soundtrack, it's going to be tough for the sequel to live up to the inevitable hype that will surround it.
The good news is that Frozen 2 is also bringing back original voice actors Idina Menzel, Josh Gad and Jonathan Groff to reprise their roles, and with Robert Lopez and Kristen Anderson-Lopez returning to write music, hopefully we'll have something magical to experience all over again. As of last fall, there was already a duet written for Anna (Bell) and Kristoff (Groff), so fans have that to look forward to.
However, let's not forget that this is animation that we're dealing with here, so even though the cast is getting ready to head into the studio to record their lines, the animation part of production will take at least a couple years, so we're not going to see the movie for awhile. But if you want to know what it's like in the recording booth, here's some footage from behind the scenes of the first movie:
Stay tuned to find out when Frozen 2 will hit theaters.