Dan Harmon Boards 'Bubbles', A Stop-Motion Animated Movie About Michael Jackson's Chimpanzee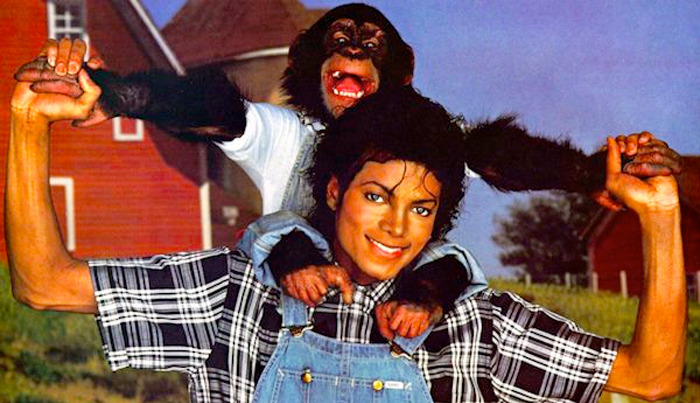 With television projects such as Community and Rick and Morty under his belt, you wouldn't expect writer and executive producer Dan Harmon to be involved with a project like the Oscar-nominated, animated drama Anomalisa. But Harmon and his Starburns Industires production banner produced the film written and directed by Charlie Kaufman, and now he's looking to do the same for Bubbles, an original script which topped the 2015 Black List and tells the story of Michael Jackson's life through the perspective of his pet chimpanzee named Bubbles.
Deadline reports Andrew Kortschak and his End Cue banner is teaming with Harmon and Starburns Industries to acquire the Bubbles movie, written by Isaac Adamson. The hope is to turn the script into another stop-motion animated movie in the same style as Anomalisa, which used 3D printed puppets to bring characters to life in a very lifelike way.
For those who don't know, Bubbles is a chimpanzee who was adopted by the King of Pop from an Austin, Texas research facility in 1983. The chimp was moved to Neverland Ranch where he lived with Jackson and began to accompany him to various places. According to Wikipedia, Bubbles sat in on the recording of the iconic "Bad" album and even went on tour with Jackson to Tokyo in 1987 where they stayed in a two-bedroom hotel suite together. They even visited the mayor of Osaka, where Bubbles quietly drank Japanese green tea during the visit.
However, even though the chimpanzee became Michael Jackson's friend, it also created a strange image of him in the media. Journalist Steve Huey said the public began to see him as a "bizarre eccentric, obsessed with recapturing his childhood." But perhaps the public only began to see him that way because that's how the media presented him, going so far as to exaggerate a story about Bubbles being made the ringbearer for Elizabeth Taylor's wedding at Neverland Ranch in 1991, even though that wasn't true.
Sadly, Bubbles eventually became overaggressive, as adult chimpanzees do, and he was moved to a monkey sanctuary in Florida where he still lives today.
The film, which doesn't have a director on board yet, will follow Bubbles from his time as a baby chimp to his release from Michael Jackson's custody. Bubbles will narrate his own story and detail life inside of Michael Jackson's inner circle, including all of the fame, glory and scandals that come with it.
This is such a strange project, but it also sounds like a really cool way to tell part of Michael Jackson's life story. The question is how much of his life story can they tell without getting into any legal trouble with Jackson's estate. Surely those details are being worked out