Jonah Hill & Emma Stone To Reunite For 'Maniac' Comedy Series From Cary Fukunaga [UPDATED]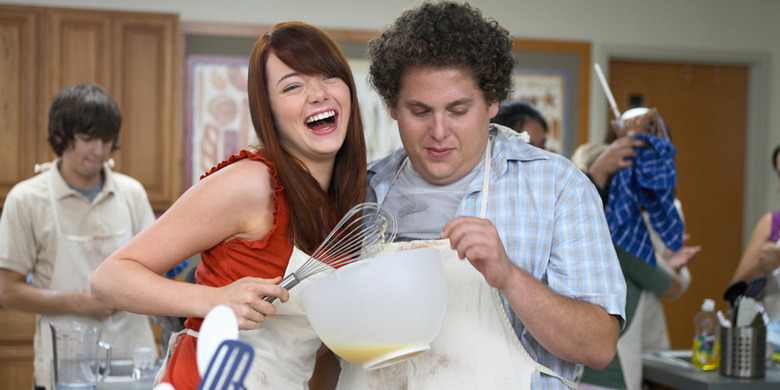 UPDATE: Deadline reports Maniac has been picked up by Netflix for a straight-to-series order with 10 episodes for a first season. Our original story from March 18th follows.
About nine years ago, the high school comedy Superbad from director Greg Mottola and writers Seth Rogen & Evan Goldberg helped boost the careers of co-stars Jonah Hill and Emma Stone, and the two have gone on to get nominated for Oscars. Now the two will reunite for another promising comedy project, this time on the small screen.
Jonah Hill and Emma Stone are set to star in a new comedy series called Maniac, based on a recent TV show of the same name from Norway. And sweetening the deal is True Detective and Beasts of No Nation director Cary Fukunaga, who has signed on to direct every single episode of the show. Get more details on the Maniac TV series below.
THR reports Paramount Television and Anonymous Content are behind the dark comedy series that is currently being shopped around Hollywood with the aim to land a two-season order. That likely means the series will end up at a pay cable network like HBO or Showtime or streaming service like Netflix or Hulu, because regular broadcast networks like NBC or CBS usually don't make those kind of commitments for a new show.
The original Norwegian series followed a thirtysomething man named Espen, living as a patient in the psychiatric ward of a hospital. While undergoing treatment, he escapes the reality of his situation into a fantasy world that exists only in his mind. Here's how original series producer Anna Kolbjørnsen of Rubicon TV previously described the show to Variety:
It will be a high-quality drama about a young man who's living a fantastic life, but only in his dreams, in his fantasy world. In real life, he gets locked up at an institution, with a psychologist trying to win him back to reality.
The American dream has gained its foothold in Norwegian culture. It is this issue we want to investigate. Espen, of course, takes this to an extreme, of imagining being loved by everyone around him. Every day appears like a party, and there's no limit to what he was experiencing. But it's simply too good to be true.
Espen has escaped into his own head and lives out his dream life there, which he shares with Hakon, his best friend. But is it really that bad? At present, he is the top. Until Mina, the new psychologist begins to needle him. And Espen must redefine what life he wants to live.
For a taste of what the original series brought to the table, here's the trailer (with subtitles):
Presumably, Jonah Hill would take the lead role, unless they plan on gender-swapping the character to have Emma Stone as the lead instead. But more than likely, Stone will end up playing Espen's new psychologist Mina (edit: we've since learned that Stone will play a fellow patient).
The original series was written and directed by Espen PA Lervaag and Hakon Bast Mossige, who both also starred in the show. A similar situation will play out with this American remake of Maniac with Hill and Stone also acting as executive producers along with Cary Fukunaga and Anonymous Content's Michael Sugar and Doug Wald.
It's interesting that the original series was described as a drama while this new take on the material is called a dark comedy. Perhaps Fukunaga found a way to infuse some more humor into the story while still staying true to the original show's dramatic roots. But if you watch the trailer above, you'll see the show already had some comedy in it. Knowing what Fukunaga did with the tone and style of True Detective, I can't wait to see what he does with a dark comedy series.