Marvel Reveals First 'Iron Fist' Teaser Image, Confirms Finn Jones As Danny Rand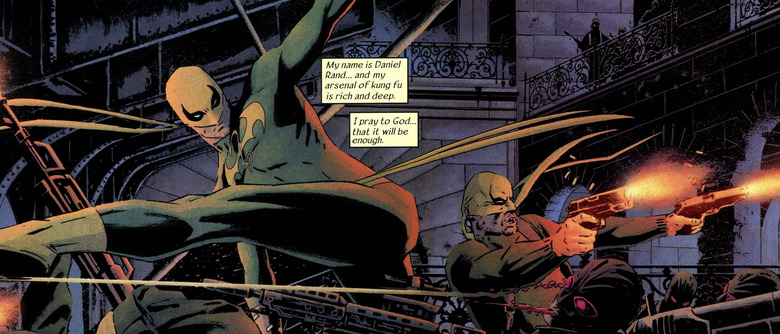 As we prepare for our all-night Daredevil season 2 binges, Marvel and Netflix have dropped a tiny little tease for one of their next superhero series, Iron Fist. As we learned last month, and as Marvel has officially confirmed today, Game of Thrones alum Finn Jones will be the one to bring Marvel's Asian-themed superhero to life. And if you're wondering just who this Danny Rand character is, well, so is Joy Meachum. Read the Iron Fist Finn Jones announcement and see the first Iron Fist teaser image after the jump.
Marvel issued a press release today announcing Jones as the star if Iron Fist. Let's get all the usual publicity fluff out of the way. Said showrunner Scott Buck:
Danny Rand is a very complicated character. He's a billionaire New York Buddhist monk martial arts superhero who's still trying to figure out what exactly that all means. Finn is able to play all these levels in such an honest, revelatory way that as soon as I saw him I knew he was our Danny.
Added Jeph Loeb, head of Marvel TV:
Finn wonderfully blends confidence with vulnerability, making him the perfect choice as he struggles to find his place in the world. Now that we've found our Danny Rand, we've completed our principal cast for the upcoming Defenders on Netflix and we are thrilled to continue to show audiences unexplored corners of the Marvel Universe.
And here's how the statement describes the series:
Jones will play Daniel Rand, who returns to New York City after being missing for years. He fights against the criminal element corrupting New York City with his incredible kung-fu mastery and ability to summon the awesome power of the fiery Iron Fist.
But we're getting ahead of ourselves. Iron Fist may be famous to us out here in the real world, thanks to 40+ years' worth of comics, video games, TV shows, toys, etc. But within the Marvel Cinematic Universe, it seems he's still an unknown entity. Just check out this phone message for Joy Meachum (and try to ignore the fact that this form bizarrely does not include a "From" line).
Some secrets can't be buried. #IronFist https://t.co/UexPYkIP6Y pic.twitter.com/CvPCvfia0B

— Marvel Entertainment (@Marvel) March 17, 2016
Of course, the question most fans will be asking isn't "Who is Danny Rand?" but "Who is Joy Meachum?" In the comics, Joy Meachum is a brilliant businesswoman and the daughter of Harold Meachum, the business partner of Danny Rand's father Wendell Rand. She initially blames Iron Fist for the death of her father, but he's eventually able to clear his name. While Jones is the only cast member confirmed so far for Iron Fist, the image above confirms Joy Meachum will be among the supporting characters. Other Marvel characters rumored to appear include Colleen Wing, Davos (Steel Serpent), and Ward Meachum (uncle of Joy).
In addition, it's likely characters from other Netflix Marvel series will make their way to the series, including, possibly, Jessica Jones' Jeri Hogarth (Carrie-Anne Moss), whose comic book counterpart is a friend of Wendell Rand's; Luke Cage's Misty Knight (Simone Missick), who has an on-again, off-again romance going with Danny in the comics; and Daredevil's Claire Temple (Rosario Dawson), who seems to be the Netflix MCU's Nick Fury, in that she's a supporting character who ties all the properties together.
Iron Fist does not yet have a debut date, but it'll likely arrive in late 2016 or 2017.