'The Hunger Games: Mockingjay Part 2' Honest Trailer: It's Like 'Kill Bill' But They Don't Kill Bill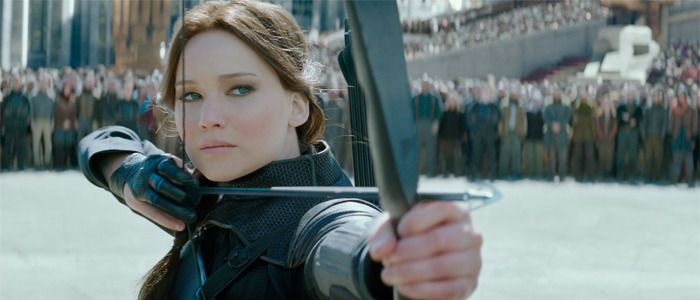 Last fall brought the end of The Hunger Games franchise, or at least the end of the franchise as far as adapting any existing books written by Suzanne Collins (Lionsgate wants to make some prequels). But for some, The Hunger Game: Mockingjay Part 2 didn't deliver the satisfying conclusion that we were all hoping for. So Honest Trailers is here to mock the Mockingjay, mostly for that anticlimactic ending.
Watch The Hunger Games Mockingjay Part 2 Honest Trailer after the jump.
Calling the film a "joyless parade of less exciting stuff" seems a bit harsh for a movie that was a pretty solid sci-fi adventure, but it's hard to deny that it limps to the finish line. The action that's there isn't anywhere near as satisfying as the first two films, and there's just a little too much melodrama brought on by Peeta being completely crazy and everyone being concerned about him at every turn.
For me, the one scene that just didn't work, was Haymitch (Woody Harrelson) reading a letter to Katniss (Jennifer Lawrence) from Plutarch Heavensbee. I can only imagine this scene would have been much more powerful if Philip Seymour Hoffman was alive to have made this seen more lively, even if it was just with his voiceover, but sadly we'll never know.
In the end, the Mockingjay sparked a blaze that really sizzled in Catching Fire, but was really doused with water for the finale. I can't say that I was supremely disappointed, but I just wish it was more impressive. If you missed the Honest Trailer for Mockingjay: Part 1, you can check it out right here.