'Teenage Mutant Ninja Turtles 2' Clip Shows The Turtle Truck's Weapons, Plus See Shredder's New Look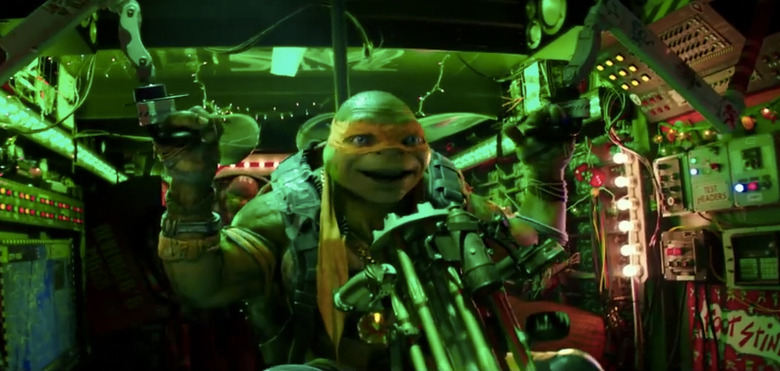 This summer, the heroes in a half shell are back in Teenage Mutant Ninja Turtles: Out of the Shadows, and the fan service for the sequel seems to be off the charts. The first trailer introduced us to Rocksteady and Bebop and the Super Bowl spot revealed Krang. And now a new sneak peek from Nickelodeon's Kids Choice Awards over the weekend reveals Shredder, who has a much better look compared to his appearance in the first movie. Plus, a clip shows off the new turtle truck and some of the modifications Donatello has made to it.
Here's the new Teenage Mutant Ninja Turtles 2 clip from the Kids Choice Awards (via Vimeo):
As you can see, in addition to shooting manhole covers, the truck also has some giant metal arms and nunchucks that are controlled by Michelangelo. But unfortunately, they don't last too long, and Raphael has to deal with the bad guys who weren't taken out by the giant weapons.
Even though I think this sequel looks like it's much more ridiculous than the first, that just might be the best thing for the franchise. It may not be my cup of tea, but the action does look pretty fun from this clip. But what I'll be interested in is how all the villains work together against the turtles, especially with Shredder and Krang both appearing in this one.
Speaking of Shredder, if you need a closer look at the villain's new look, actor Brian Tee posted a screenshot he captured for your consideration:
Ladies and gentlemen... I give you... The... #Shredder #kca
Hopefully this means Shredder doesn't have some kind of ridiculous super suit that makes him more of a Transformers villain than a Teenage Mutant Ninja Turtles nemesis.
The rest of the Teenage Mutant Ninja Turtles 2 cast includes Megan Fox, Will Arnett, Alan Ritchson, Noel Fisher, Pete Ploszek, Jeremy Howard, Stephen Amell, Tyler Perry, Laura Linney, Stephen 'Sheamus' Farrelly and Gary Anthony Williams. If you want to know more about the sequel, check out our set visit report.
"Teenage Mutant Ninja Turtles: Out of the Shadows" is the sequel to the 2014 hit film "Teenage Mutant Ninja Turtles." The film is based on the Teenage Mutant Ninja Turtles characters created by Peter Laird and Kevin Eastman and is directed by David Green ("Earth to Echo"). Michael Bay (the "Transformers" franchise) returns to produce alongside his Platinum Dunes partners Brad Fuller and Andrew Form ("Teenage Mutant Ninja Turtles"), with Galen Walker and Scott Mednick ("Teenage Mutant Ninja Turtles") also producing.
Teenage Mutant Ninja Turtles: Out of the Shadows arrives on June 3rd.