'Indiana Jones 5' Set For Summer 2019; Harrison Ford And Steven Spielberg Returning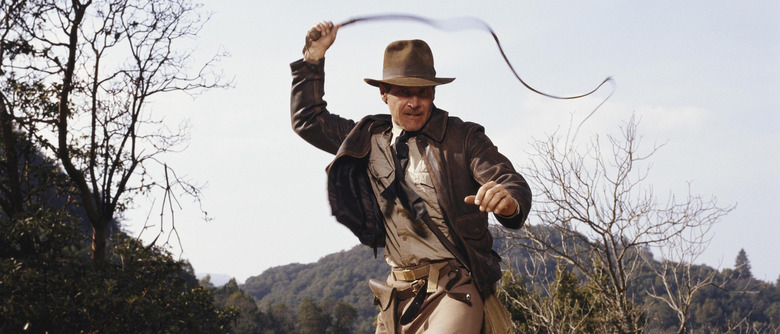 Harrison Ford will crack that whip again. Disney officially announced today that Indiana Jones 5 is coming in summer 2019, with Ford back as the world's coolest archaeologist and Steven Spielberg, who helmed all four previous installments of the franchise, returning to direct.Indiana Jones 5 has officially been set for July 19, 2019. It's currently the only film slotted for that date. The Marvel adventure The Inhumans scheduled for the weekend before (July 12), but it seems likely Inhumans will move away from Indiana Jones 5 before we get there, especially since both are being released by Disney — there'd be no point in the studio cannibalizing its own box office.Kathleen Kennedy and Frank Marshall are producing Indiana Jones 5. Interestingly, the press release makes no mention of creator George Lucas – so if he's involved at all, it's likely in a reduced capacity. It doesn't sound like Lucas has creative control over the new Indiana Jones, which is probably for the best if for no other reason than that it'll allow the new team to have creative control. No other writers or stars have been announced at this time.
Speculation about a fifth Indiana Jones movie has been swirling ever since Disney acquired Lucasfilm in 2012, and Disney has continually insisted that it does plan to return to the Indiana Jones series eventually. But understandably, resurrecting Star Wars seemed to be the studio's first priority. Now that The Force Awakens has successfully charted a new course for that series, it looks like the studio is finally ready to turn its attention to everyone's other favorite Lucasfilm franchise.
Ford will be 77 by the time Indiana Jones 5 opens in 2019, and as charismatic and badass as he still is today, it seems a reasonable bet that Indiana Jones 5 will see him hand the franchise off to a younger star. Marshall has said they wouldn't be taking the "James Bond" approach of simply casting a new actor as Indiana Jones, and Ford's return confirms that — but the question remains as to how, exactly, the series could continue with a new lead. Will we go back to Indy's younger days? Will Indy pass the torch to a younger relative or colleague? Does this mean Crystal Skull's Shia LaBeouf will be back as Mutt? (On that last one, probably not.)
Share your Indy-related theories and feelings in the comments, and while you mull over this news you can read the full Indiana Jones 5 press release below.
SPIELBERG AND FORD REUNITE AS INDIANA JONES RETURNS TO THEATERS JULY 19, 2019Indiana Jones will return to the big screen on July 19, 2019, for a fifth epic adventure in the blockbuster series. Steven Spielberg, who directed all four previous films, will helm the as-yet-untitled project with star Harrison Ford reprising his iconic role. Franchise veterans Kathleen Kennedy and Frank Marshall will produce."Indiana Jones is one of the greatest heroes in cinematic history, and we can't wait to bring him back to the screen in 2019," said Alan Horn, Chairman, The Walt Disney Studios. "It's rare to have such a perfect combination of director, producers, actor and role, and we couldn't be more excited to embark on this adventure with Harrison and Steven."Famed archaeologist and explorer Indiana Jones was introduced in 1981's Raiders of the Lost Ark – one of AFI's 100 Greatest American Films of All Time – and later thrilled audiences in 1984's Indiana Jones and the Temple of Doom, 1989's Indiana Jones and the Last Crusade, and 2008's Indiana Jones and the Kingdom of the Crystal Skull. The four films have brought in nearly $2 billion at the global box office.