Garry Marshall Says 'The Princess Diaries 3' Is In The Works With Anne Hathaway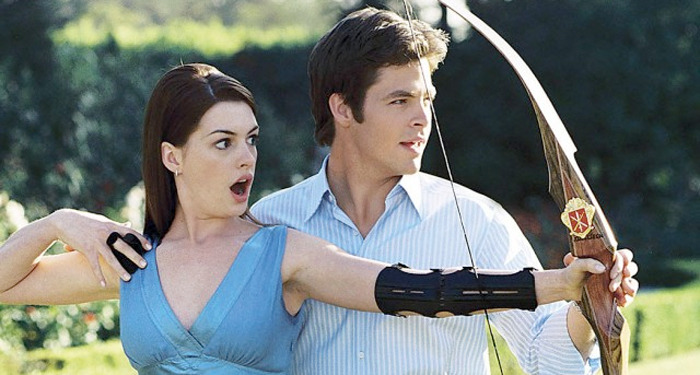 It's been 14 years since Anne Hathaway returned as Crown Princess of Genovia, Amelia "Mia" Thermopolis, in The Princess Diaries 2: The Royal Engagement. Since then, the actress has won an Oscar for her turn in Les Misérables, and she's taken some pretty big roles in films such as The Devil Wears Prada, The Dark Knight Rises, Alice in Wonderland and more. But it sounds like she may be heading back to Disney princess territory again.
Director Garry Marshall says he and Anne Hathaway have talked about getting back together for The Princess Diaries 3. Find out what the filmmaker had to say about the sequel after the jump.
While speaking with People Magazine, here's what Marshall said about reuniting with Anne Hathaway:
I was with Anne Hathaway a couple weeks ago, it looks like we want to do 'Princess Diaries 3' in Manhattan. Anne Hathaway is very pregnant, so we have to wait until she has the baby and then I think we're going to do it.
So at the very least, we'll have to wait until Hathaway has her baby before The Princess Diaries 3 becomes more of a reality. But the fact that they've been talking about it should be exciting for fans of the romantic comedy series. The question is whether or not Chris Pine, who has also turned into quite a big deal since The Royal Engagement, will return for the sequel as Lord Nicholas Devereaux. Marshall is hopeful, but unsure:
Maybe. He's quite big now, you know. Chris Pine likes me, you know why? Because his father [Robert Pine] is in 'Mother's Day'!
Marshall is the kind of warm, beloved filmmaker who can get get pretty much anyone on board his projects, so I wouldn't be surprised if he was able to get Pine back for The Princess Diaries 3. Just look at the casts he's rounded up for the aforementioned ensemble projects. Funnily enough, the last time Hathaway and Marshall worked together was on Valentine's Day, the first holiday-themed ensemble romantic comedy that led to New Year's Eve in 2011 and this year's Mother's Day.
We could be looking at another influx of sequels following more than a decade after their predecessor. Bridget Jones' Baby is on the way this year after Bridget Jones: The Edge of Reason also arrived in 2004. Before you know it we'll be getting a sequel to Love Actually or something like that. Stay tuned to see if The Princess Diaries 3 happens.