'Unbreakable Kimmy Schmidt' Season 2 Trailer: A Bunny, A Cat, Elmo, Drugs & More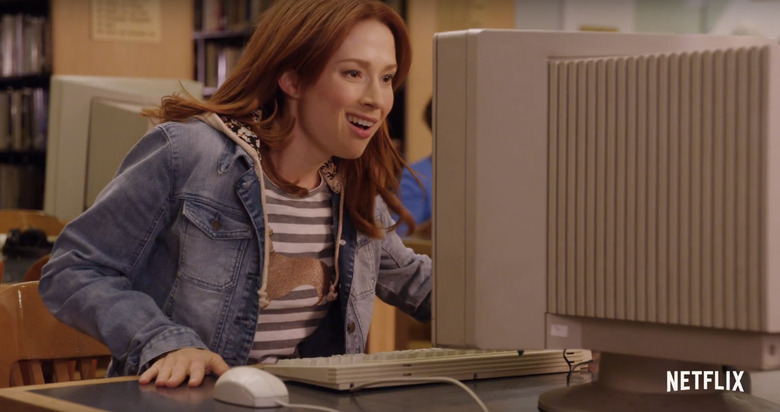 If you haven't taken the time to watch the first season of The Unbreakable Kimmy Schmidt on Netflix, stop what you're doing, take a few hours to binge through all 13 of the episodes, and then come back. Because today we have the first trailer for the second season of the comedy series from 30 Rock creators Tina Fey and Robert Carlock.
Ellie Kemper is back as the young, clueless woman still adjusting to life in New York City after escaping the bunker of a wacky cult who had convinced her that the world had ended. This time Kimmy is on the hunt for a new job, maybe a new man, and still has plenty of new adventures with her roommate Titus (Tituss Burgess) and former employer turned peculiar friend Jacqueline (Jane Krakowski).
Watch the Unbrakable Kimmy Schmidt season 2 trailer after the jump.
Here's our first look at the second season straight from Netflix:
Having Kimmy work at a year-round Christmas store is just perfect, and it's just a shame that she isn't in New York City at the same time as Buddy the Elf was. It would be incredible if there was some kind of cameo from Will Ferrell reprising his character from Elf, and if anyone could make it happen it would be Fey. Unfortunately, I don't think it's in the cards. But Fey will be back in another cameo role, but not as the same lawyer character she played last season.
This looks like a fantastic second season to the comedy series that has become one of Netflix's best productions to date. It's fast, quirky, and funny, and Kemper is just an absolute joy to watch. I could watch her sing that bunny and kitty song for at least a couple hours and never get sick of it. This is what Carlock told Hollywood Life was in store for Kimmy this season:
This season is about Kimmy continuing that big journey that she's on, and dealing not only with so many tangible things in the world that she hasn't dealt with, but also having to keep going back and dealing with the stuff that's going on in her past. She thinks she can just keep putting one foot in front of the other, and that she's got closure, and obviously with what she went through and with how strong she is, she has to keep learning a lot of new lessons about herself.
And the good news is, since this season was developed specifically for Netflix (as opposed to the first season, which was written with NBC as the original home for the show), we'll be getting some longer episodes. Each of the 13 episodes in the second season will be an average of 27 minutes with the finale going for a full 33 minutes.
The entire second season of The Unbreakable Kimmy Schmidt premieres on April 15 on Netflix.