Mike Birbiglia's 'Don't Think Twice' Is A Warm And Melancholy Tribute To Artistic Failure [SXSW Review]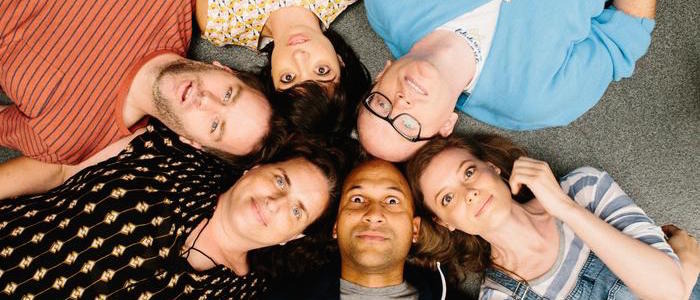 Good comedy is the result of long-simmering pain. A comedian struggles on stage, bombing in front of impatient audiences, for years before learning how to be funny. A hilarious actor waits tables while desperately hoping to get cast in that first defining role. And even after so much suffering and so much hard work, the vast majority of talented people still slip through the cracks, watching as others, sometimes friends, stumble into big breaks.
This is the world of Mike Birbiglia's Don't Think Twice, a thoughtful comedy tinged with both melancholy and hope. Set within the New York City improv comedy scene, Birbiglia's sophomore effort as a director captures the joy of creation and the agony of creative stagnation – anyone who has ever struggled to make something will laugh and cry and find a great deal of the film hitting very close to home.
The premise is simple enough: a veteran improv troupe, faced with the impending closure of their theater, struggles to stay together, even when one of their own is cast in Weekend Live (the film's trademark-dodging stand-in for Saturday Night Live). Faced with the overnight success of a dear friend, the other members of the group battle swiftly rising resentment. The world of comedy is no laughing matter.
Don't Think Twice is Birbiglia's follow-up to 2012's Sleepwalk With Me, a scrappy, charming and brutally autobiographical look at his struggle to become a stand-up comedian. Birbiglia's honesty about himself and his obsessions made his debut a winning film, but he's grown by leaps and bounds as a storyteller. Don't Think Twice is a better film in every way: more confidently directed, more agonizing in its drama, and much, much funnier. You don't have to enjoy improv comedy to dig the work the performers pull off here. In fact, the contrast between their on-stage work and their after-hours goofing off in apartments and bars is a key part of the film. When does a comedian turn off and how much of their humor is a defense mechanism?
Despite writing, directing and starring in the film, Birbiglia is a gracious filmmaker and even more gracious co-star. Every character in the film, every actor, is a key and unmovable component. This is an ensemble piece and Birbiglia lets his cast stand in the spotlight alongside him. Like a great improv comic, Birbiglia about as unselfish as you can get (while also being entirely unafraid to self-deprecate), giving so many of the biggest laughs and most important dramatic beats to his co-stars.
The cast is uniformly strong, with Birbiglia, Kate Micucci, Chris Gethard, and Tami Sagher all creating fully realized characters, each of them tragic and funny and often excruciatingly human. Keegan-Michael Key, as the member of the troupe who gets that big break, is a standout in a role that calls upon the inherent silliness of his comedic persona as well as a dramatic side that hasn't been tapped often enough on the big screen.
But this is Gillian Jacobs' show. The Community and Love star has showcased impressive chops in the past, but her work here is extraordinary, calling upon her to blend comedy and pain, often using the former to mask the latter. We've all met someone like her character in this film: a funny person who hides behind silly voices and comedic bits to avoid talking about their problems, a sad clown whose depression fuels their performance. A scene late in the film, where Jacobs finds herself alone on stage, is a heartbreaking showcase for how a wounded person can use comedy to heal and achieve a breakthrough. She's a movie star.
Birbiglia is not a stylish director, but his unobtrusive storytelling is ideal for this kind of movie. It takes a certain amount of nerve to just put the camera in the right place to capture great actors doing great work and Birbiglia does just that. His qualities as a filmmaker manifest themselves beyond what his camera does. He realizes that the world of comedy, of entertainment, is full of broken dreams and shattered relationships. There's an inescapable melancholy to his work – it's downright tragic that we suffer for art, but that's life and life is unfair.
But like his stand-up, his movies find balance. Don't Think Twice is honest and painful while also being warm and hopeful. This is a film that acknowledges reality while seeing the absolute best in people. You fall down, you fail, you let your friends down...and then you get back up again and say "yes and."
/Film rating: 8/10