'Everybody Wants Some!!' Red Band Trailer: This Looks Like A Party For The Ages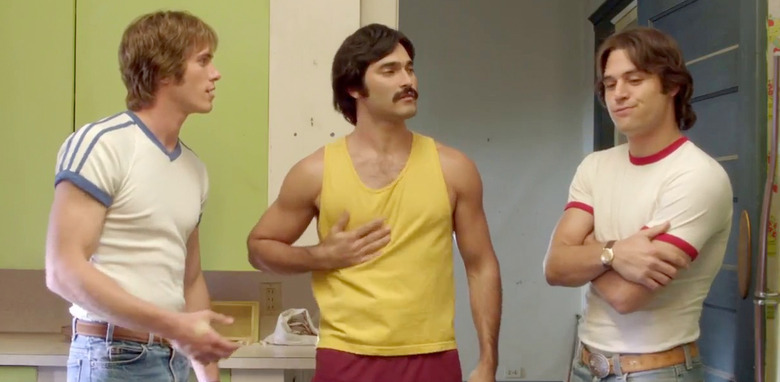 With some advanced screenings and a premiere out of SXSW behind us, the buzz on Richard Linklater's new comedy Everybody Wants Some!! (yes, the title has two exclamation points) has been extremely positive. Our own Jacob Hall just caught the film down in Austin, Texas and he called it "a joyous film, a comedy tinged with an invisible melancholy."
In anticipation of the film's release on April 1st, a new red band trailer has arrived to show off the wild party that drives this spiritual sequel to Dazed and Confused. Of course, beware of the salty language and college party nudity that lies within this trailer, making it NSFW or any libraries that you crazy college students might be using to procrastinate.
Here's the Everybody Wants Some red band trailer from IGN:
Just so you know what you're getting into, this is a movie that doesn't really have a clear plot. We follow one young man getting ready for college, but Linklater just follows him around with a group of college baseball players, living their lives in the '80s and partying like there's no tomorrow. They'll never be this young again and they're enjoying the hell out of it.
This looks like the kind of comedy that has gone by the wayside over the years. Back in the '70s and '80s there used to be a lot more comedies with a very thin plot, but without ruining the quality of the movie. National Lampooon's Animal House is a prime example of one such comedy, and I wish more movies were able to capture that kind of magic. Everybody Wants Some!! certainly appears to be doing a nice job of that.
Much like Dazed and Confused, the film is populated with lesser known actors, adding to the authenticity of the proceedings. Blake Jenner, Zoey Deutsch, Will Brittain, Ryan Anthony Guzman, Tyler Hoechlin, Glen Powell, J. Quinton Johnson, and Wyatt Russell all make up the ensemble cast.
If you want to see more of the movie without the concern of boobs and f-bombs popping up, you can watch the green band trailer over here. Plus, you can see what some other lucky souls who have already seen the movie also said right here, and check out Jacob Hall's full review from SXSW.
A "spiritual sequel" to 'Dazed and Confused' set in the world of 1980 college life, Richard Linklater's 'Everybody Wants Some!!' is a comedy that follows a group of friends as they navigate their way through the freedoms and responsibilities of unsupervised adulthood. Get ready for the best weekend ever.
Everybody Wants Some!! hits theaters on April 1st.