John Goodman Joins Mark Wahlberg For Boston Marathon Bombing Drama 'Patriots Day'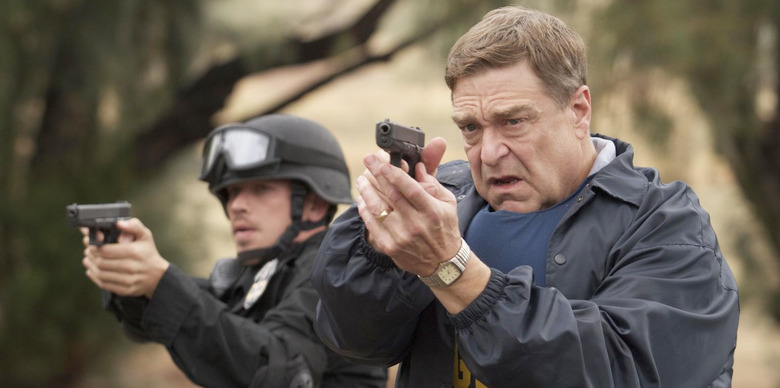 This weekend you should go out of your way to catch 10 Cloverfield Lane, an outstanding original sci-fi thriller that keeps you guessing the whole way through. One of the many reasons the flick works so well is an outstanding performance by John Goodman, proving yet again that he's one of the best character actors of his generation. And now the actor has lined up another film in which he can steal scenes from the stars.
CBS Films and Lionsgate have announced that John Goodman has joined the cast of Patriots Day, one of several Boston Marathon bombing dramas in the works. Find out more about his role and the rest of the Patriots Day cast below.
For those just joining us, the film is named for the historical holiday on which the aforementioned bombing happened back in 2013. This specific dramatization of the events will be told through the eyes of Boston Police commissioner Ed Davis and is being crafted with the help of 60 Minutes, who chronicled the events of that day for a segment on the news program.
John Goodman has come on board to take this key role in the film as Ed Davis, who worked with the FBI, Watertown Police Department, Boston Police Department, Massachusetts State Police and local first responders to track, identify and apprehend the suspected bombers. Even though the film is being told with his perspective as the driving force, it doesn't sound like he's the lead. More than likely this will be an ensemble effort.
In addition to Goodman, Mark Wahlberg is on board the film (he's also producing) as a composite character of several real Boston Police Department officers who were central to the investigation and manhunt that ensued after the bombing. Plus, J.K. Simmons is playing Sergeant Jeffrey Pugliese from the Watertown Police Department, who engaged in combat with bombers Tamerlan and Dzhokhar Tsarnaev.
Peter Berg (Lone Survivor, Battleship) is directing the movie which doesn't yet have a release date, but will begin production this fall on location in Boston. It remains to be seen if Patriots Day will end up beating other Boston Marathon bombing movies, such as Stronger with Jake Gyllenhaal and Tatiana Maslany or the developing Boston Strong, to theaters or not, but it's happening either way. I'm not sure we need three different movies about this recent attack, but the film industry does, so we'll see what happens.