'The Ranch' Trailer: Ashton Kutcher And Danny Masterson Reunite For New Netflix Comedy Series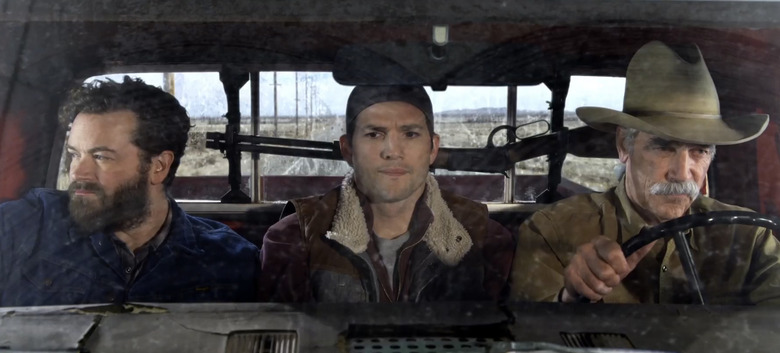 So far Netflix has had a pretty good track record when it comes to their original programming, whether it's dramas like House of Cards, comedies like Unbreakable Kimmy Schmidt, or animated series like BoJack Horseman. But just like Pixar stumbled after a long series of fantastic programming, Netflix seems to have finally lost some steam.
In addition to the nostalgic cash grab of Fuller House, Netflix is getting a little old-fashioned with a new multi-camera comedy series called The Ranch starring Ashton Kutcher and Danny Masterson, and it has one of those annoying laugh tracks to let you know when it's time to laugh at the terrible jokes. But the only difference is that there are no censors to hold back the language.
Watch The Ranch trailer after the jump.
After you take a gander at the awful writing on the show, it should come as no surprise that the show hails from Don Reo and Jim Patterson, executive producers of the abysmal Two and a Half Men. These jokes feel straight out of the '90s, with the artificial-looking sets that go along with it, almost like the jerk uncle in your family made a TV show. Netflix is really going for that lowest common denominator crowd who loves all those bad CBS comedy series.
That '70s Show stars Ashton Kutcher and Danny Masterson starring in this show makes sense since they're not doing much else career wise, but surely Sam Elliott and Debra Winger can find some better work. He's such a fine actor and he really deserves better than this. And this is certainly not what I want to see Elisha Cuthbert doing, knowing how fantastic she was on Happy Endings.
Anyway, if you feel like punishing yourself and truly feeling like a fool, The Ranch premieres on Netflix on April 1st.
Set in present day on a Colorado ranch, this multi-camera comedy series stars Ashton Kutcher, Danny Masterson, Sam Elliott and Debra Winger. The show follows Colt's (Kutcher) return home after a brief and failed semi- pro football career to run the family ranching business with his older brother Jameson "Rooster" (Masterson) and father Beau (Elliott), whom he hasn't seen in 15 years. Winger stars as Colt's and Rooster's mother, Maggie, who runs the local town bar. The Ranch is executive produced by Don Reo (Two and Half Men,My Wife and Kids) and Jim Patterson (Two and a Half Men, Mike and Molly). Kutcher and Masterson serve as executive producers and co-executive producer respectively.